We're getting close to wrapping up the blog for today. The situation has remained stable in East Gippsland today, where fire danger warning levels have been downgraded, and aside from a flare-up in Ardonachie in the state's west (see 7.32pm post), there are not any emergency warnings active for Victoria. 
Given today's blog has largely been taken up with reports of the relief efforts, the scale of the damage becoming apparent and the fact we now know that at least one person has been killed by the fires, now seems like a good time to mention the mental recovery from a natural disaster. 
Carolyn Webb reports that the Red Cross has urged people with loved ones affected by the bushfires to listen to them and seek help if necessary.
After an intial sense of euphoria at surviving, some people experienced an emotional rollercoaster and struggled to return to everyday life, according to Andrew Coghlan, the Australian Red Cross' head of emergency services.
He said for many survivors, bushfire was "a very abnormal experience" and their reactions were normal. "It's not something that people are used to seeing or dealing with."
He said relatives and friends should listen as the survivor talked through their experience.
If, after four to six weeks, people are still struggling, they should see a GP who could refer them to counselling.
The Red Cross has a web page with tips about how to look after yourself in a crisis and how to support children.
To find loved ones affected by the bushfires go to this site or call Red Cross on 1800 727 077 (Victoria) or 1800 227 228 (NSW).
You can donate to the Red Cross Disaster Relief and Recovery fund here or by calling 1800 733 276. Donations over $2 are tax deductible.
Freelance photographer Rachel Mounsey has been in Mallacoota today and has captured some eerie photos of the trail of destruction the fires left in their wake.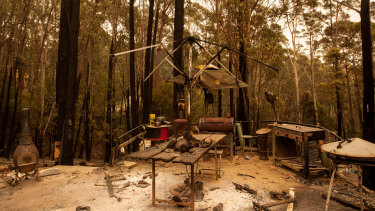 More than 70  structures have been destroyed by the East Gippsland fires, which have burned through 676,600 hectares of land.
A 68-year-old man from Buchan, Mick Roberts, was named as the first victim of the fires today, and several other people remain unnaccounted for. 
You can find some more of her photos from Mallacoota, along with pics from photographers who have been stationed in Sarsfield and Clifton Creek, in this photo gallery. 
We also received this photo from a reader, Claire George, of a blackened marsupial observing the destruction in Mallacoota. 
An emergency warning has been issued for Ardonachie, in the state's west, where a bushfire is burning out of control in the Budj Bim National Park.
The fire is being fanned by winds to the north that are sending flames towards the Ardonachie School Road and Loke Gorrie Road.
People on Patons Road, Sparrows Road, Ardonachie School Road and Lake Gorrie Road are being urged to leave the area.
The alert reads: Residents of Patons road, Sparrows road, Ardonachie School road and Lake Gorrie road could be impacted anytime within the next hour. Leaving now is the safest option, before conditions become too dangerous. Emergency Services may not be able to help you if you decide to stay.
The area subject to the emergency warning is shaded in red below: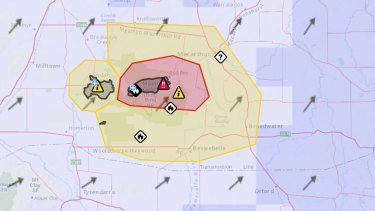 Hot weather is on the way again for East Gippsland, with Mallacoota to hit 41 degrees on Saturday. 
Since 1993 there's only been three days of 40 degree-plus temperatures in the month of January in Mallacoota, weather bureau data shows.
In Orbost, a maximum temperature of 41 degrees is expected, while it is set to reach 39 degrees in Lakes Entrance and Bairnsdale. 
The state's east will also be plagued by a strong wind change on the same day, which could change the activity of out-of-control fires.
The Bureau of Meteorology's duty forecaster Rod Dickson told The Age north-westerly winds blowing ahead of a trough will heat up the state's east on Saturday, before "gusty south-westerly winds" will sweep through in the afternoon.
"There will be a wind change, which will change the direction of any fire activity as it comes through on Saturday," he said.
There will be some relief on Sunday, with two to five millimetres of rain expected across East Gippsland.
"It isn't going to be enough to put the fires out, but will help in terms of suppressing conditions over Sunday and Monday," Mr Dickson said.
The first confirmed victim of the fires still raging in East Gippsland, Mick Roberts, was larger-than-life in Buchan, the small town he had called home for more than two decades.
"He was tough on the exterior but he had a heart of gold," his stepson, Dylan Wissell, told The Age.
"He was a good man. He was a bit of a rock to me, to be honest. He was always there if I needed a bit of a yack."
Mr Wissell said he believed that Mr Roberts, 68, had been painting his house with friends in the days leading up to the tragedy and got separated from them when fire threatened the property. 
At least three other people in the Buchan region remain unaccounted for. 
View Channel Nine's news report on Mr Roberts: 
The young boy photographed in a tiny boat trying to escape as fire hit his small East Gippsland town has recounted the 'really scary' moment the sky went dark overhead.
Finn Burns, 11, was captured in a now viral image wearing a breathing mask and piloting a tinny away from land at Mallacoota on Tuesday morning: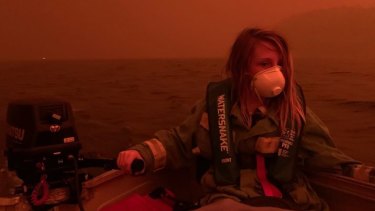 The photo was shared and reposted thousands of times on social media and appeared on the front page of Australian papers and on major international news websites, such as the BBC.
About 4000 people were forced to flee to the safety of the Mallacoota shore front on Tuesday morning, with the sky clouded with smoke and turning an eerie red hue.
Finn told Nine News the flames that surrounded the small East Gippsland town were "pretty scary", but his family had enacted their escape plan successfully.
You can watch the interview below: 
Premier Daniel Andrews has been out in East Gippsland today meeting people whose homes were lost in the fires. 
"Safe to say, people are exhausted and shaken," he tweeted.
"The danger has far from passed – but we're starting to be able to get in and provide supplies and support to some areas."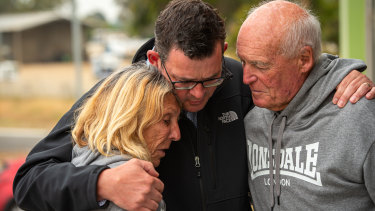 The threat level of an out-of-control bushfire that has burned through 100 hectares in Sunbury, in Melbourne's north, has been downgraded. 
Even though the fire hasn't yet been brought under control, it has been confined to a section within containment lines by CFA crews.
Residents in the vicinity of Settlers Way and Enterprize Drive on the northern outskirts of Sunbury had earlier been advised to leave the area, but for now the threat has abated.
The warning reads: There is currently no threat to you, but you should plan for what you will do if the situation changes.
The Princes Highway has been reopened to traffic between Bairnsdale and Orbost in both directions, the Transport Department says. 
However, the road remains closed from Orbost to the New South Wales border in the state's east and all side routes between Bairnsdale and Orbost remain closed. 
On Monday night the entire stretch of the highway from Bairnsdale to the New South Wales border were closed. Last night a section from Bairnsdale to Lake Tyers Beach Road near Lakes Entrance. 
Tap water in Mallacoota is safe to drink again, East Gippsland Water has announced in a statement. 
Residents had previously been advised to boil tap water before drinking it due to the demands the firefighting effort was placing on the water supply. 
However, people are being advised to restrict their water usage to conserve supplies. 
Bottled water supplies arrived in Mallacoota earlier this afternoon (see 4.14pm post) and enough fuel, water and food to last about a fortnight are being shipped out to the area.