Thank you for following along today. Here's the latest: 
Sutherland Mayor, Councillor Carmelo Pesce has today announced support for the South Coast communities devastated by the ongoing bushfire crisis.
"I am saddened by the devastation as these terrible fires continue, particularly so close to home in the NSW South Coast communities that have experienced such destruction in recent days," Mayor Pesce said.
"I have today reached out to the Mayors of Shoalhaven, Eurobodalla and Bega to offer our support, both financially with a $50,000 contribution for the region and with resources to assist in the recovery efforts."
"Many people in our community have strong connections with the South Coast and we want to be able to assist in this time of need."
The Dunn's Road fire is burning close to Batlow, on the edge of the great dividing range. The RFS has just confirmed that the town's hospital has been closed, with patients relocated to Wagga Wagga.
People in the area have been encouraged to leave. Evacuation Centres at nearby Adelong and Tumbarumba will close, with people encouraged to head to Wagga Wagga.
Animals can also be sheltered at Wagga Wagga Showgrounds.
Daniel Jadric didn't need much of a nudge from authorities to evacuate from the South Coast town of Malua Bay before Saturday's expected extreme fire danger hits the region.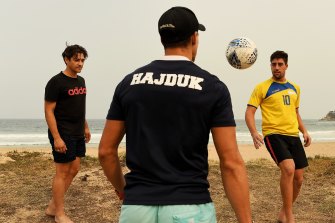 Mr Jadric, along with his brother Josip and friend Nikolas Barisic, watched on in shock as smoke and fire turned the postcard-perfect beach and headland just south of Batemans Bay into a red and black nightmare in the middle of New Year's Eve.
"It was horrific," he said, showing the Herald images captured on his phone. "I thought we were all pretty stuffed."
Wagga Labor councillor Vanessa Keenan has sent an open letter to the Deputy Prime Minister telling him how he has been on her mind. "You may find it odd but I thought of you a lot but I wanted to let you know." she wrote on Facebook.
"When I heard from family working in the RFS Command Centre that the Dunn's Road fire was coming straight for us, I thought of you. As I gathered what I could of my mum's precious belongings I thought of you," she wrote.
"When I first saw the flames on the neighbours property and raced back to let the others know it had arrived, I thought of you. I thought of you again when I rang Triple 0, both times, to tell them there were people here and we had no way out."
She ended her post by asking him if he had thought of the devastated communities.
"Did you think about all the devastated communities that will be impacted by your lack of action or even acknowledgement of climate change? Will you think of us now? What will it take to get your attention? I have tears in my eyes writing this letter to you. I'm desperate, the whole country is desperate. Now is the time."
The Rural Fire Service has advised people from as far north as Nowra to stay out of the area over the weekend, with "widespread extreme fire danger" forecast for the Shoalhaven area.
"These will be dangerous conditions, the same or worse than New Year's Eve," the RFS said.
"If you are holidaying in the Shoalhaven region, particularly in the areas identified on the map, you need to leave before Saturday. Residents within this area should be aware and prepare for the worsening fire conditions on Saturday."
While authorities have asked people to evacuate the South Coast, unexpected fire developments are causing havoc for the plans of some who left coastal towns such as Batemans Bay.
Veronica Longo told the Herald at 5pm that her family and friends – totaling 18 people in four cars – had taken advice to leave their resort on Thursday and head north up the Princes Highway.
Unfortunately, fires near Milton have cut the highway and their group will only be able to get as far as Ulladulla, she said.
"Half of us are saying we should turn back, the other half says we should stay," Ms Longo said. "It's been bumper to bumper for the past three or four hours and now we're not moving.
Asked if she regrets leaving, Ms Longo replied: "I actually regret coming down to Batemans Bay."
Little Harvey didn't stop sucking his dummy.
The toddler son of Geoffrey Keaton, dressed in a child-size Rural Fire Service uniform for the funeral of his RFS volunteer father, stood still as he received a medal from RFS Commissioner Shane Fitzsimmons honouring his dad.