Temperatures are forecast to climb into the 40s on Saturday, and with wind gusts of up to 60 kilometres or stronger. "It's going to be a blast furnace," Mr Constance said.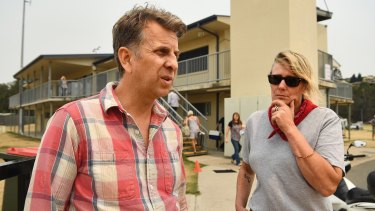 Towns such as Broulee to the south of Batemans Bay remained without power on Thursday, more than 48 hours after losing it when a huge fire front swept into coastal-hugging communities on New Year's Eve.
Hamish Gorman, a resident of Broulee, said phone reception had either been poor or non-existent, and even the local ABC radio service had been down.
Mr Gorman said he was preserving what little fuel he had left, but he made a trip into Batemans Bay to take remaining cash from a business he has there, given the lack of EFTPOS and other services in some places.
The exodus of holidaymakers, as well as the loss of homes and properties, will "hit a lot of people really hard," Mr Gorman said.
Mayor of Eurobodalla Shire Liz Innes said the local population would typically more than triple during the summer peak from 33,000 to 110,000 or more.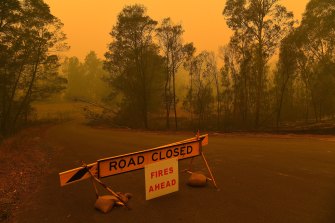 Since fires started to affect the Princes Highway to the north more than a month ago, local businesses had already begun to struggle with lost income and cancellations. But the focus had to be on moving people out now.
"Get ready, get ready, the monster's not done with us yet," Ms Innes said.
Loading
Several visitors that the Herald spoke to couldn't leave the region fast enough but were restricted because of lack of fuel, or in one case, a car radiator problem that nobody could fix.
People woke up to heavy smoke from nearby fires on Thursday, adding to the discomfort of limited food and in many cases, a night in the dark without power.
Marty Webster, an RFS spokesman from the area, told ABC radio that a series of big fires near coastal communities could soon merge.
"The weather has the potential to be worse than New Year's Eve," he said.
On Thursday, water bombing activities took place in areas near Batemans Bay such as Rosedale, where dozens of homes were lost, as forests continued to smoulder.
Peter Hannam writes on environment issues for The Sydney Morning Herald and The Age.
Kate Geraghty is a photojournalist at the Sydney Morning Herald. She has won multiple awards including the Gold Walkley in 2017.
Most Viewed in Environment
Loading