"You're not welcome you (expletive)," someone yelled as the Prime Minister walked back to his car.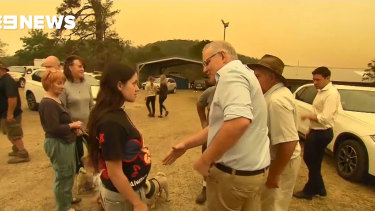 Mr Morrison has been criticised for taking a family holiday to Hawaii while bushfires burned around the country, and has repeatedly been under pressure for his handling of the situation.
"Go back to Kirribilli, we might burn that down! I don't see Kirribilli burning after the fireworks!," another man shouted.
As Mr Morrison hopped into his car, a woman turned to the camera to say that the town had been "forgotten."
"This is not fair, we are totally forgotten about down here – every single time this area has a flood or fire, we get nothing," she said.
Loading
"If we were Sydney, if we were North Coast, we would be flooded with donations and emergency relief."
"I'm not surprised people are feeling very raw at the moment," Mr Morrsion said on ABC News afterwards.
"And that's why I came today, to be here, to see it for myself, to offer what comfort I could