An apparent jump in fuel prices – with higher grade petrol selling for nearly $1.73 per litre – added to the dismay of the past few days.
"They jacked up the prices – that's robbery", Mr Barisic said. "It was un-Australian to do that in a national disaster."
The trio plan to hit the road on Friday at 3am to avoid the worst of the traffic.
Not far from where the men were playing soccer on Thursday evening, Garry Maddison was settling in for a pizza beside the caravan he has pulled up to the beach at Malua.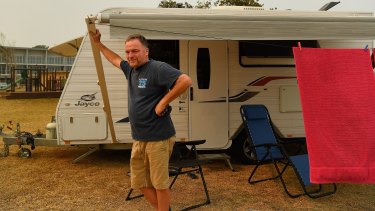 Mr Maddison nearly lost his house just up the road on Tuesday, but he isn't ready to evacuate the town he has called home for 11 years. He is fully aware of the risks, having been evacuated from the Victorian town of Benn River in East Gippsland because of fires just days earlier.
"It's the last Alamo," he told the Herald. "The next place is in the water."
While authorities have asked people to evacuate the South Coast, unexpected fire outbreaks were causing havoc for some of those who had heeded the government's warnings to evacuate the region from Batemans Bay to the South Coast.
The evacuation area has since been extended northwards to include the coastal strip up to Nowra.
Veronica Longo said her family and friends (18 people in four cars including a two-year-old) had taken advice to leave their Batemans Bay resort and head up the Princes Highway when it reopened on Thursday.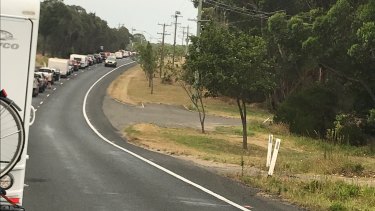 Loading
Unfortunately, fires near Milton cut the highway and their group will only be able to get as far as Ulladulla.
"Half of us are saying we should turn back, the other half says we should stay," Ms Longo said. "It's been bumper to bumper for the past three or four hours and now we're not moving."
Asked if she regretted leaving, Ms Longo replied: "I actually regret coming down to Batemans Bay."
Other visitors talked of their frustration at not having electricity for extended periods and having to queue for hours at the few shops still open.
Peter Hannam writes on environment issues for The Sydney Morning Herald and The Age.
Kate Geraghty is a photojournalist at the Sydney Morning Herald. She has won multiple awards including the Gold Walkley in 2017.