That's all for The Age's live bushfire blog for today.
Here is a summary of the situation in Victoria on Thursday evening:
One person is dead and 17 are missing
51 fires continue to rage across Victoria
24 communities remain isolated across the state
About 4000 people remain stranded at Mallacoota, with mass boat evacuations planned for Friday 
24 structures had been destroyed in Buchan, 19 in Sarsfield, 10 in Mallacoota, up to 15 in Corryong and up to 15 in Cudgewa
More than 800,000 hectares of land in Victoria has been burnt out in East Gippsland
Eleven watch and act alerts were in place at 5pm on Thursday
People have been urged to get out of national parks in the alpine area ahead of the weekend
Horror conditions are forecast for Saturday in the eastern part of the state, temperatures forecast to reach the low 40s
Total fire ban for Friday for the Wimmera, South West, North East and East Gippsland districts
For all the latest emergency warnings, head to the VicEmergency site. 
The Department of Land, Water, Environment and Planning Gippsland has posted these incredible pictures of the fires in the region, accompanied by a warning for people to get out and stay out of the district before the weekend.
"The sheer size and complexity of these fires along with a lack of power, lack of communications, limited road access and isolation in many areas is making it difficult to gain information on the specific impacts at a community level," they said. 
"If you do not need to be here – get out before this weekend."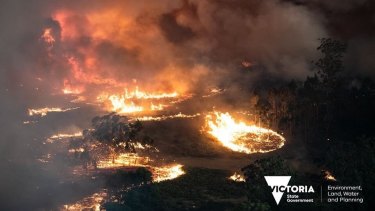 The Age photographer Justin McManus has taken these incredible pictures of smoke plumes rising from the Cann River fire, taken from a boat sailing towards Mallacoota: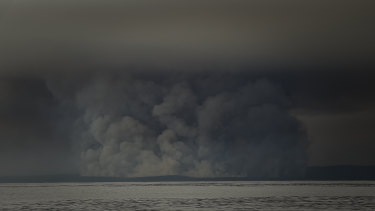 Tennis Australia say plans are in place to support those impacted by the country's bushfires after star Nick Kyrgios's proposal for a charity exhibition match to raise funds ahead of this month's Australian Open gained rapid support.
The world No.30 posted his idea to Twitter late on Wednesday and by Thursday afternoon the concept was gathering pace.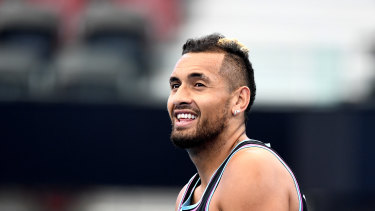 "The more exposure it gets I think we have the potential to do something pretty special there," Kyrgios told media ahead of the inaugural ATP Cup, where he'll represent Australia in Brisbane from Friday.
"All the heartbreak this summer; it's pretty tragic what's going on, especially with my hometown, Canberra, being under a bit of smoke, the most hazardous smoke in the world at the moment.
"To see Canberra like that, it's pretty tough to see."
On Thursday morning Tennis Australia CEO Craig Tiley said the public should "stay tuned" for the announcement of a number of initiatives, beginning at the inaugural ATP Cup to be played between Sydney, Perth and Brisbane from Friday.
Insurance claims for property losses this bushfire season could easily double to top $600 million, Stephen Miles reports, with about 1300 homes razed so far across NSW, Victoria, South Australia and Queensland since late August and as blazes continue to rage across four states.
However, the true cost will be much higher, with many of those to have lost property likely to be under-insured or have no insurance at all.
As of Christmas Eve, 789 homes had been confirmed as lost in NSW, 86 in South Australia and 40 in Queensland. However, those figures do not include the latest destruction from fires that have swept across in southern NSW and eastern Victoria.
Authorities in Victoria said fires that burnt through 766,000 hectares have destroyed at least 60 homes across East Gippsland. Property losses include 24 at Buchan, 19 at Sarsfield, 10 at Mallacoota and 15 at Cudgewa, but more are expected to be confirmed in coming days.
More on that story here: Bushfire insurance claims could top $600m
There hasn't been much good news in the blog, so let's for a second highlight the generosity of Victorians.
Here's just a small sample of what we've seen offered free of charge (outside more formal channels):
Homes or bedrooms, from as far away as Corio (some people closer to the fires are also offering their showers for fireys)
GPs to meet fire refugees as they arrive in larger towns
Hay and feed, which are already rolling in to East Gippsland. (Call the VFF on 1300 882 833 or email fodder@vff.org.au if you need some).
Home-cooked and restaurant-cooked meals, care packages, clothes, linen and towels
Chook pens, yards for pets and paddocks for stock
Massages
Water tanks
Four-wheel drives, car trailers and tow vehicles
Excavators
Australia's existing emissions reduction policies will do enough to protect the environment and seek to reduce bushfire risks, Prime Minister Scott Morrison insists, as vast bushfires burn in all six states.
Mr Morrison said the National Security Committee of cabinet will meet on Monday to consider bringing in more defence force ships and helicopters "as well as the longer term response and some issues we have identified to consider amongst premiers after the fires".
"Our emissions reductions policies will both protect our environment and seek to reduce the risk and hazard we are seeing today. At the same time, it will seek to make sure the viability of people's jobs and livelihoods," he said during a press conference on Thursday.
Mr Morrison, who has faced criticism online and on talkback radio for his leadership during the crisis, acknowledged the "anxiety" and "stress" of people fleeing the fire zones and urged patience, assuring those affected that "help will arrive".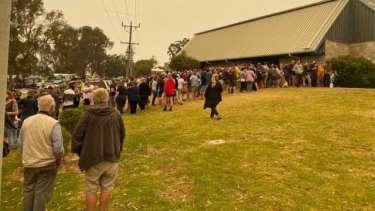 People are lining up in Mallacoota to register for Friday's evacuation. 
The commander of the naval ship docked just outside of Mallacoota says registration for a spot on the 1000-person capacity HMAS Choules would open after 3pm, as about 4000 people remain stranded around the town's beach area, including about 1000 locals.
At an information session on Thursday afternoon, HMAS Choules Commander Scott Houlihan noted the task of establishing how many people wanted to evacuate the town was a priority.
"One of the unknowns we have right now is how many people want to be evacuated. The first thing we're trying to get out of this [opening registration] is to get a number of how many want to go because that obviously drives everything for us," Mr Houlihan said.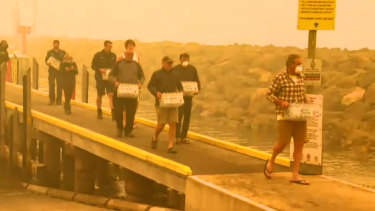 "We're looking to put 1000 on the ship. If the number is less than 1000 then clearly everyone is going to go in that first boat.
"If the number is greater than 1000, then it's going to be a second load. It's 16-17 hours to the closest boat port, then we've got to come back."
Two new watch and act alerts have been issued for Victoria. 
An advice warning for a number of small communities in the alpine region near Dinner Plain was upgraded to a watch and act alert at 3.15pm on Thursday. 
There are three bushfires nine kilometres north-west of Anglers Rest that are out of control and are growing in size as they burn in very dry forest. 
The fires are likely to travel south in the coming days and residents of Cobungra, Dinner Plain, Falls Creek, Omeo and Shannonvale are being told to leave immediately. 
Community meetings are being held on Thursday at Benambra at 4pm at the fire station and Omeo at 5pm at the Recreation Reserve.
The second watch and act is for an industrial fire at a scrap metal yard on Boundary Road in Sunshine. Anyone in the area should taken shelter indoors due to the smoke. 
A Metropolitan Fire Brigade spokeswoman said it was brought under control by 3.10pm and no-one was injured. 
Emergency services have warned residents across a vast swathe of northern and eastern Victoria to "get out now" with fire conditions set to worsen.
People living in alpine areas of the state as well as East Gippsland and Upper Murray region have been told they only have a 24 hour "window of opportunity" to leave or risk being cut off by smoke and flames.
Authorities are especially worried about communities in the Buckland Valley, the Ovens Valley and and other areas around the Mount Buffalo National Park.
There are fears two fire fronts burning in Victoria could merge in coming days, creating a bushfire of enormous scale.
Tourists have been urged to get out of the Alpine National Park in Victoria and Kosciuszko National Park in NSW immediately, ahead of the weekend's horror conditions.
There are already fires burning in the Kosciuszko National Park, and NSW authorities issued an urgent evacuation order on Thursday, with holidaymakers urged to get out by 10am on Friday.
About 400 people are currently in the park, mostly in Thredbo, and a Department of Planning, Industry and Environment spokeswoman said they are now in the process of leaving.