Thank you for following along today. Again, RFS and weather experts have said that tomorrow is going to be a horrible day in terms of conditions so be sure to stay away from any fire-affected areas if possible. To recap:
The death toll for the state's fire season has now risen to 17

There are more than 150 fires currently burning around New South Wales
Three of those are at "watch and act level", the Currowan, Dunn's Road, and Green Valley fires
A state of emergency remains in place
Total fire ban in the state for Saturday
Extreme fire warnings are in place for all of southern NSW
At least 480 million animals killed in NSW alone
A man who sustained injuries while fighting the Stockyard Flat fire in Yarrowitch in the state's north-east has died, police said.
The 49-year-old suffered serious burns and was airlifted to Port Macquarie Hospital, before being transferred to Royal North Shore.
Yarrowitch is in the Willi Willi and Cottan-Bombang National Park areas, about 110km west of Port Macquarie.
Police NSW have said that the man died on Sunday, December 29th. That marks 17 total deaths during this fire season in NSW, with nearly 1400 homes lost. 
A 19-year-old has been arrested and charged with nine offences, after allegedly breaking into a home in Batlow after the residents had evacuated, and then driving off in their car.
Police say the man broke into a rural property on Old Tumbarumba Road, Batlow, on Thursday afternoon, and later crashed a Ford Falcon into a tree.
When officers searched the vehicle, they found a backpack containing jewellery, documents and ammunition alleged to have been stolen.
The Tumut man was refused bail and will appear in Wagga Wagga Local Court on Saturday. 
We hear the bushfire rather than see it, waking to cracking thunder and dark skies.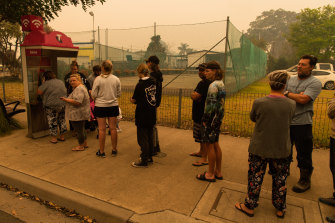 At first I think a storm was bringing much-needed rain. But this is no ordinary thunder; it is generated by a fire so large it has its own weather system.
Our plan to find a safe haven on the NSW South Coast for a holiday has failed. Now the five of us – myself, my husband, our two children and a close friend – are in one of the most dangerous parts of the state with no immediate way out.
A day after starting an online movement for sports stars to donate to bushfire relief, Nick Kyrgios' opening performance at the ATP Cup raised $4000, with a comfortable 6-4 7-6(4) victory over Germany's Jan-Lennard Struff.
Kyrgios pledged to donate $200 for every ace he hit this summer, and managed an even 20 in his first win of the season, which took just over an hour. 
"I don't really care about the praise too much – we've got the ability and the platform to do something like that," he said.
"My home town's Canberra, we've got the most toxic air in the world at the moment so it's pretty sad, it's tough," he said as he held back tears. 
Kyrgios' pledge was matched by not only fellow tennis pros but other sports stars, including cricketers Chris Lynn, Glenn Maxwell, and D'Arcy Short who said they would donate $250 for each six they hit in the Big Bash.
"I woke up this morning and everyone got behind it," Kyrgios said.
"It's all going to the families, firefighters, animals, everyone."
The Prime Minister was interviewed on A Current Affair on Friday evening, to address several issues related to the bushfires, including his visit to Cobargo on Thursday.
"People are really hurting," he said. "There's a lot of different receptions wherever you go but I do know that where I was yesterday, people were hurting very much. They were very raw, very angry. I don't take any of that personally."
He again denied walking away from Cobargo resident Zoey McDermott, saying that he would pass her concerns about funding onto the Rural Fire Service.
When asked by host Leila McKinnon about whether footage of forced handshakes with both Ms McDermott and an RFS volunteer looked odd and if he had any regrets, the Prime Minister replied that "some want to reach out and give you a big hug, others are feeling a little more standoffish – and I understand that."
In response to earlier comments at Kirribilli house, ahead of the Sydney Test which began on Friday, he was asked if he thought fire-affected residents could take comfort in the cricket results, he said his words had been taken out of context. 
Mr Morrison also said that firefighting efforts should expect more air support in the near future.
"As things escalate, we've put an extra $11 million in to enhance the firefighting fleet that we had in the air going into this season. We had $15 million, we put a further $11 million in. That was well before Christmas. This is the way that you continue to respond as states and territories.
"We continue to meet the need and anticipate it, and get in front of it. And now, a lot of my effort is focused on the recovery."
Tennis Australia is targeting the world's best players to take part in the Rally for Relief as the organisation aims to raise millions for victims of the bushfires.
Nick Kyrgios sparked the seven-figure bushfire fundraising frenzy on Wednesday night, asking Tennis Australia to hold an exhibition match before the Australian Open.
That call was answered on Friday by TA, which will host a Rally for Relief at Melbourne's Rod Laver Arena on January 15.
A man has been charged after allegedly lighting fires on his property near Jindabyne without a permit.
Emergency services were called to Kalkite Road, Kalkite, about 8.40pm on Thursday – the fires were extinguished shortly afterwards, with no injuries reported.
Officers from Monaro Police District spoke with the occupant, an 84-year-old man, and it will be alleged he did not have a permit. Just before midday on Friday he was served a court notice for lighting fires without a permit.
The man is due to appear in Cooma Local Court on Wednesday 19 February 2020.
A pregnant Cobargo woman who refused to shake Scott Morrison's hand on Thursday has said all she wanted was for the Prime Minister to discuss increased help for fire services.
But instead, Mr Morrison "turned his back", said Zoey McDermott, who lost everything she owns in Tuesday's fires.
Essential Energy crews have restored power to more than 22,285 NSW customers who were left without power over the past 72 hours.
Priority was given to critical services in bushfire-affected areas including hospitals, nursing homes, and petrol stations.
As of 4.00pm on Friday 9,715 customers were without power. That number is expected to rise over the weekend.
Essential Energy expects further network damage from catastrophic fire conditions tomorrow.
Customers in some areas are advised they could be without power well into next week, or possibly longer.
Essential Energy said people should stay at least eight metres away from any fallen or damaged powerlines and report them on 13 20 80.