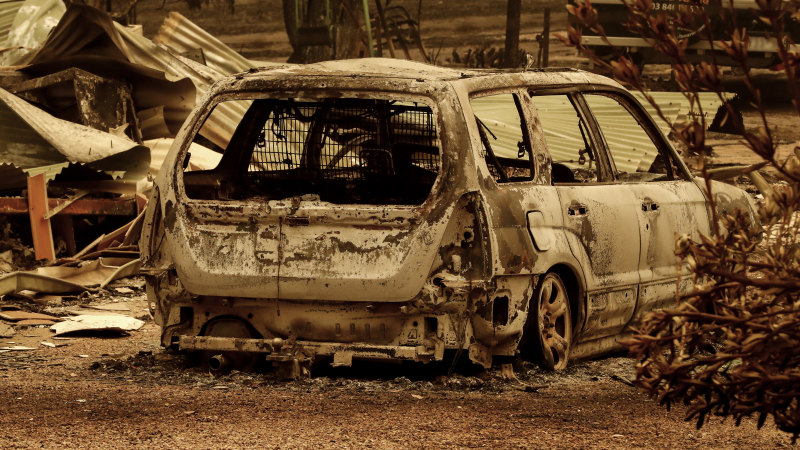 "I can't believe Les and Mary put us up – they don't know us up from a bar of soap," Ms Rossi said.
Mr Jackson laconically described it as no different to when strangers helped them with a puncture. "People help us all the time," he said. "We had three bedrooms so we thought we could put up some of these people."
Relief centres have opened throughout Gippsland and Hume, with sites at the Bairnsdale City Oval, the Mechanics Hall in Lakes Entrance, Corryong High School, Tallangatta Memorial Hall, Wangaratta Performing Arts Centre, Wangaratta Showgrounds and The Cube in Wodonga.
The Australian Defence Force is also preparing relief centres at Gaza Ridge Barracks in South Bandiana (near Albury Wodonga), which can sleep up to 500 people and at HMAS Cerberus, a naval base on the Mornington Peninsula, which can accommodate up to 350.
Loading
But Leo O'Brien, a local real estate agent in Sale, figured that some people would prefer to stay in private homes rather than a crowded relief centre.
"There are a lot of single ladies with children whose partners are staying to look after the property. They are quite distressed, so it's nice to provide them with somewhere safe to stay."
Mr O'Brien leveraged his contacts – "I've been living here for 40 years and know most people in town" – to set up a database of residents willing to billet fire evacuees.
By Friday afternoon he had received more than 50 offers and placed about 40 people.
"The phone hasn't stopped ringing. It's a good town, Sale, people are trying to help."
Mr O'Brien was co-ordinating with the Sale showgrounds, which was accommodating free of charge a stream of caravans and people arriving with horses.
When The Age spoke to him he was trying to find huts for 27 elderly Indigenous people from Lake Tyers Aboriginal Trust, who had requested that they be accommodated together.
"It's just nice to feel you're doing something. This is sort of unprecedented what we are facing."
Loading
He said despite being 50 kilometres from the fires it was still "very, very smoky".
"The sun hasn't come out at all here today," Mr O'Brien said.
Meanwhile, the mayor of East Gippsland Shire, Cr John White, said he was "really, really worried" about the 28 people who were missing.
"Are we going to see them walking up the road towards us? I don't know," he said.
"That's a real worry, because that's potentially people's lives. You can put up another house, you can build new fences but you can't bring people back."
Cr White said rural communities lived with the threat of bushfire, especially in a shire like East Gippsland with so much native forest.
"I've been saying for at least the last three years because of the drought: 'We've dodged a bullet, we've dodged a bullet and bang, here it is'."
He said some people had towed caravans to the emergency relief centre at Bairnsdale's city oval, while others were sleeping in the change rooms at the football oval. "It might sound a bit funny, but it is no different to sleeping in a hall."
Food, coffee, water and showers were also available at the relief centre.
Loading
"People are comfortable and accepting of what's on offer," Cr White said. "People are handling it really well. [Premier] Daniel Andrews said he couldn't believe how well organised and calm it was here."
There were also assembly areas at Orbost, Mallacoota and Cann River.
Cr White said the highway was buzzing with people leaving East Gippsland.
"Oh boy, the bloody smoke here, we are getting used to sucking it in now."
Towong Shire mayor David Wortmann warned some isolated communities being told to evacuate in the Hume region in the north-east of the state were without power and communications, which was making it difficult to get the message out.
Cr Wortmann said he was escorted by the CFA through roadblocks to attend a community meeting on Thursday night in Walwa, a town between Wodonga and Corryong, which had no landline or mobile coverage and no ABC radio.
"Last night the general mood was they would stay. Now the advice is to leave but how do you get the message out?," Cr Wortmann asked.
"It is up to the local CFA to get the message around the surrounding district because there is no power and no communication."
Cr Wortmann said the shire was bracing for Friday night and Saturday. "The weather forecast is very, very dangerous and the active fire will move very quickly tomorrow," he said.
"There's going to be communities that come under threat tomorrow, there is no doubt about that."
He said the hard part had been getting relief and supplies into isolated communities due to active fires and road closures.
"It's just devastating in the Corryong and Cudgewa areas – houses have been lost and the stock losses are horrendous."
Jewel Topsfield is Melbourne Editor of The Age.