The Choules, which had most recently been in Fiji, took aboard the last contingent of its passengers aboard the 16,000 tonne, 176-metre long ship just before 5pm for what is expected to be a 20-hour journey down the East Gippsland coast, past Wilsons Promontory to Westernport.
Dr Taylor, who had been on holidays in Mallacoota, said his family had found a spot to sleep for the night on the ship's lowest level under a flight of stairs on yoga mats that had been handed out.
They also had access to the creature comforts they had gone without since fires hit on New Year's Eve – showers, toilets, food and television.
Dozens of dogs were being kept on the equipment deck in makeshift pens.
When they were first told that they should think about evacuating Mallacoota on December 30, they couldn't get back to Melbourne and an unknown lay ahead with roads over the NSW border snaking into fire zones themselves.
They felt safe in Mallacoota, with the water the last resort.
But Dr Taylor said it was a no-brainer to leave his car behind, parked on the oval behind the CFA shed and board Choules.
He said spirits were high with home on the horizon.
Holidaymakers like him were lucky.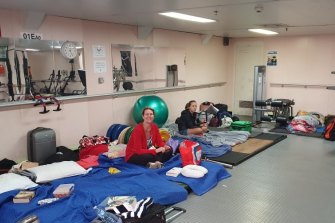 "Us tourists can smile at each other and have drinks and have a game of pool at the bar like we did last night, but for the locals, it's a marathon," he said.
He said he would go back to Mallacoota.
"We owe it to them to come back and spend a lot of money. We owe it to them," he said.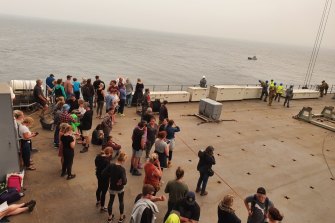 Tammy Mills is a Crime Reporter for The Age.