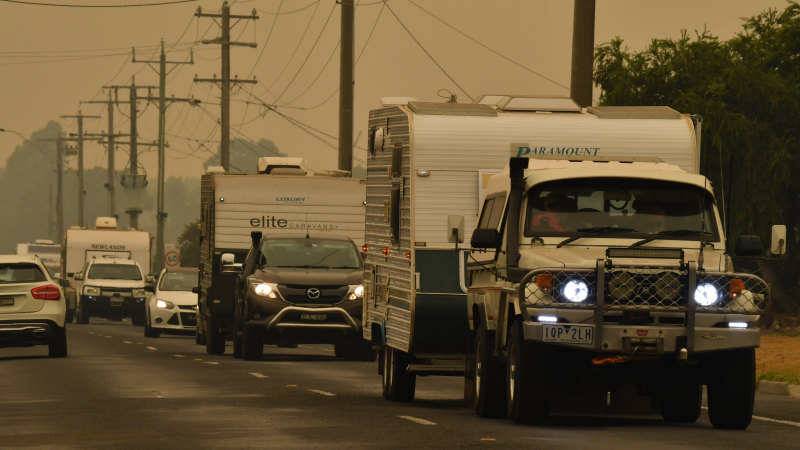 Loading
"Some people said, 'I reckon we will be safe here', but I told them they needed to go. If you can go, go," she said.
With tourists evacuated, townsfolk moved in to stay at the park.
People who live on the bushy outskirts of Lakes Entrance also relocated to the Echo Beach Tourist Park, where owner Leigh Profitt said people were told at a community meeting there weren't enough trucks to protect the entire town if the firefront rolled in.
In Orbost, Snowy River Lodge Motel owner Debbie Woerz said most holiday makes had left town and she cancelled all her bookings to provide beds for firefighters. Stifling smoke made for an eerie feeling, she said, ahead of the threat of more fires on Saturday.
"It's a town that pulls together, so if it all goes to crappola in the next 24 hours, I am sure the community will rebuild," Ms Woerz said.
Gippsland East MP Tim Bull drove between Bairnsdale and Sale and witnessed first-hand roads full of cars towing boats, caravans and trailers.
"I'm not sure how many are staying but there's a hell of a lot going, so the warning has been heeded," Mr Bull noted.
While noting the evacuation had come as a relief and people had been generous with offers of help, Mr Bull said his electorate had been devastated over the past six weeks, with concerns of more body blows to come.
"We have had our share of natural disasters in East Gippsland but this is the mother of them all," he said.
Loading
Mr Bull had no doubt some of the 28 people unaccounted for would be found alive, but said the intensity of the fires – in dense bush land in mountainous terrain – and lack of power and phone reception in remote areas were hampering efforts to locate the missing.
"It's an extraordinarily difficult scenario," he said.
Another state MP, Gippsland South's Danny O'Brien, was himself an evacuee this week, as he and his family left their holiday spot near Bermagui, on NSW's south coast, on Friday and were driving inland to return to Sale, which is serving as a relief centre for many of those fleeing East Gippsland.
Mr O'Brien was without power for three days so could only get an appreciation for the disaster via an emergency app.
Loading
"It's so extensive. It's predominantly a bush area so it's not surprising we have fires but the scale of these fires is really unprecedented," Mr O'Brien said.
Cann River residents were evacuated on Friday afternoon, and a convoy of vehicles was set to leave Omeo, on the Great Alpine Road, in the late afternoon and drive south to Bairnsdale behind a police escort.
Omeo Caravan Park owner Lou Beltrame estimated all visitors had left and at least half the locals. He was planning to defend his property with his wife and three others, who had intended to leave Omeo but couldn't because of car break downs.
"I'm a little bit nervous. I have been here 12 years and if my luck runs out I might have to face a bushfire," Mr Beltrame said.
"A lot of people have gone. Even those who survived the fires in 2003 and '06 and just said, 'I can't do it again'."
Adam Cooper joined The Age in 2011 after a decade with AAP. Email or tweet Adam with your news tips.