We're going to be wrapping up our live blog of today's Victoria fires coverage now, but will be back in the morning.
The latest numbers from the State Control Centre confirm two people have died, while 28 are still unaccounted for in East Gippsland. 
About 50 fires are burning across Victoria
Almost 825,000 hectares have been burnt, 600,000 in the last week
More than 1000 firefighters are working across the state
24 structures have been confirmed destroyed in Buchan, 19 in Sarsfield and 11 homes in Wairewa, but authorities expect to confirm further significant property and livestock losses when they can get into affected areas
Fire impact zone is 35,900 square kilometres with a population of 100,000 impacted
66 aircrafts in use
260,000 alert texts issued on Friday
In the meantime the latest information overnight can be found at the Vic Emergency website: https://www.emergency.vic.gov.au/respond/.
Evacuation orders are in place in six local government areas and parts of Victoria's high country, including:
East Gippsland Shire
Mansfield Shire
Wellington Shire
Wangaratta Rural Shire
Towong Shire
Alpine Shire
The Mount Buller, Mount Hotham, Falls Creek and Mount Stirling Alpine Resorts are also included in the State of Disaster area. 
Thank you for joining us, please stay safe. 
Here are the nine current evacuation warnings in place in Victoria: 
Anglers Rest, Cobungra, Dinner Plain
Bruthen, Bumberrah, Mossiface, Ramrod Creek, Tambo Upper, Wiseleigh, Double Bridges
Buchan South
Dinner Plain, Falls Creek, Hotham Heights
Boggy Creek, Bullumwaal
Suggan Buggan, Wulgulmerang, Wulgulmerang East
Abbeyard, Bennies, Cheshunt, Cheshunt South, Dandongadale, Edi, Edi Upper, King Valley, Rose River, Whitfield, Whitlands, Greta South
Bendoc, Bonang, Cabanandra, Deddick Valley, Delegate River, Dellicknora, Haydens Bog, Roaring Camp, Tubbut
Freeburgh, Harrietville, Smoko, Wandiligong
Please remember information and conditions can change rapidly. The latest information can be found at http://emergency.vic.gov.au/respond/.
A pregnant Cobargo woman who refused to shake Scott Morrison's hand on Thursday has said all she wanted was for the Prime Minister to discuss increased help for fire services.
But instead, Mr Morrison "turned his back", said Zoey McDermott, who lost everything she owns in Tuesday's fires.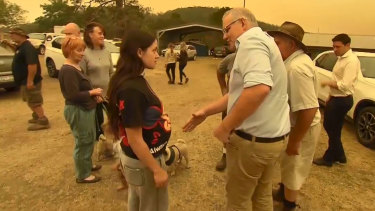 "He just wanted photos. He walked off on me," Ms McDermott told The Sydney Morning Herald and The Age.
"I would have had utmost respect for him, for any leader, if they had just sat down with us and discussed [what we needed]."
The local RFS brigade was underfunded and overworked and needed government help, Ms McDermott said.
"My friends in the local brigade – so many of them have lost their houses. It hurts me so much that they're so stretched," she said.
Ms McDermott, who is 28 weeks pregnant, was forced to drive through a firefront with her two year-old-daughter while fleeing to Bermagui on the South Coast.
"It was absolutely terrifying just not knowing whether we'd get out of it alive."
Europe correspondent Bevan Shields is talking to readers about the remarkable revelation that for the first time in history, renewables overtook fossil fuels as the main source of electricity generation in the UK.
Just 2 per cent of Britain's power now comes from coal. In Australia, it's more like three quarters.
What lessons can Australia can learn from Britain's decision to shut its dirty power plants? Is nuclear energy something Australia should explore as new technology develops? Are you satisfied with Australia's emissions reduction targets and if not, what would you want the government to change?
You can join the conversation, or simply read what readers and Bevan are saying, in our Facebook group What's Got Melbourne Talking here. 
Air quality in Melbourne's bayside suburbs hit 'hazardous' levels on Friday afternoon as smoke from bushfires across the state blanketed the city in thick smog. 
Smoke was blown across the CBD and suburbs from the East Gippsland fires, which also turned the air quality hazardous in the Latrobe Valley.
The Environment Protection Authority's monitors showed Melbourne's air quality dropping to a 'poor' rating in the late morning and then falling to 'very poor' in the afternoon.
In Brighton the air quality had hit 'hazardous' levels as of 5pm on Friday.
Visibility at the authority's monitoring station just west of the city has dropped to just 3 kilometres.
It is expected to remain hazy until Saturday morning and the smoke-filled air is likely to cause coughing or shortness of breath.
As about 1000 weary Mallacoota evacuees – and dozens of their pets – boarded the HMAS Choules for the journey to safety on Friday night, they were provided with a little comic relief.
One of the ship's commanders, to put them at ease, greeted the displaced by telling them to think of the vast navy vessel as "a cruise ship without the pina coladas."
And, Frankston doctor Andrew Taylor re-told, the commander said – tongue-in-cheek – that unfortunately the ship's kitchen had run out of lobster, but the kitchen would be open all night for their new passengers.
"Everybody is calm, everybody is smiling. Everybody feels cared for," Dr Taylor told The Age from the ship's deck, watching as the last of the landing barges came back to the ship just after 4.30pm on Friday.
The Choules, which had most recently been in Fiji, took aboard the last contingent of its passengers aboard the 16,000 tonne, 176 metres long ship just before 5pm for what is expected to be a 20-hour journey down the East Gippsland coast, past Wilsons Promontory to Westernport.
The Bairnsdale football ground seems an unlikely site for a display of Sikh culture and charity, as unlikely as hardy Gippslanders queuing for free vegetarian food.
But these are exceptional times in Eastern Victoria.
On December 30, as fire raged through the state's far east, 10 members of Sikh Volunteers Australia packed a van with food and water and headed from their base in Devon Meadows, in Melbourne's south east, toward the smoke.
"We didn't know where to go exactly," said organiser Lakhwinder Singh 34.
"We were trying to contact the local council but we were unable to make any contact. We just heard that there is a fire and we must go."
Through a Gippsland fires Facebook page the group contacted Bairnsdale neighbourhood Centre boss Leanne Jennings who advised where their help was most needed. The neighbourhood centre also assisted with accommodation and extra cooking facilities.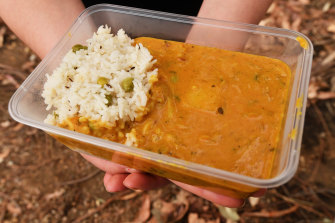 The Sikhs based their food service at the relief centre at the Bairnsdale football ground. On the first night they served more than 100 meals and were still feeding people at 1.30 am. "The Red Cross and the Salvation Army were there but there was still a great need," explains Mr Singh.
Fears were held about the small town of Lake Tyers and the local Aboriginal community, but luckily we have just been told they have all evacuated.
Suzie Squires is the CEO of the Lake Tyers Health and Children's Service. She spent Thursday driving around the community in her van ordering people to get out as soon as they could.
"The whole trust evacuated yesterday," she said. "I had a few I had to lay it on the line for. I had to go around and tell community I wouldn't be there to help them."
Ms Squires said the township had lost running water and electricity. Emergency services had warned her the fires expected to burn through the region on Saturday could cut Lake Tyers off for weeks.
"And because it's only one road in or out, we would not have been able to get a fire helicopter evacuation or boat evacuation."
"The day after the fire on Monday we had no electricity, no water – the pump died. We were in pretty dire straits. That gave people an idea what could happen if we got cut off. We'd have no water, no electricity, you could be stuck out there for a few weeks."
On Monday night, Ms Squires was doing her rounds, checking in on her patients. She said she looked up to see the blaze coming directly for the town.
"You could see it – it was coming straight toward us. It was coming fast, and very scary, moving straight towards us."
She gathered people in her van and bussed them to the local community centre to take shelter.
"We got people on oxygen, people with mobility problems. It was a bit of an adventure."
At the last minute, it seemed, the wind changed pushing the fire away from the town. "Something was watching over us," says Ms Squires.
Ms Squires says community members have taken up residence across Eastern Victoria. She is now driving from place to place to give out medication.
The Great Alpine Road is now closed between Omeo and Tawonga Gap Road, near Bright, due to increased fire activity, according to the Department of Transport.
This is in addition to the closure between Bruthen and Doctors Flat. The Great Alpine Road remains open between Bairnsdale and Bruthen.
No one should be travelling to the bushfire affected areas, including East Gippsland, Upper Murray and the Alpine areas.
Drivers have been warned that conditions can change quickly, so check for real-time traffic conditions at traffic.vicroads.vic.gov.au. For updates on bushfires go to emergency.vic.gov.au
People leaving early, or who relocate from the fire area, are asked to register for the 'Register. Find. Reunite' service as soon as possible. Register. Find. Reunite. can be accessed at register.redcross.org.au
Cudgewa graziers Colin and Michele Briggs have decided to stay put on their farm despite the mass evacuation of their region for a simple reason: there is nothing left for fire to burn.
Colin Briggs, who has been a CFA volunteer for more than 30 years, said Monday night's firestorm had torn through the community of Cudgewa – on the Murray Valley Highway east of Wodonga – with an intensity he had never seen in a bushfire.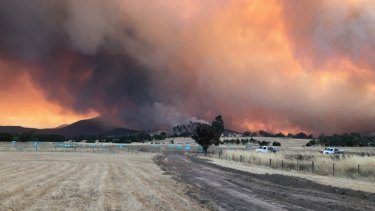 "The fires we usually get, they back off at night and you can do something with them," he said.
"These fires the other night burned harder than I have ever seen fires burn in the daytime.
"It was something out of this world I tell you. I stood about three kilometres, four kilometres back from the Cudgewa football ground on our boundary waiting for it to come. It just sounded like a couple of jumbo jets roaring over the hill at us. It was like that all night. You just had no hope of stopping it."
Michele Briggs provided photographs of the fire's approach and its blackened aftermath.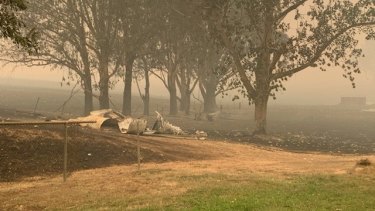 Despite the ferocity of the fire, the couple managed to save most of their Angus beef herd and some fodder to feed them with until the fire crisis abates.
Asked whether she was planning to evacuate ahead of Saturday's potentially catastrophic fire conditions, Ms Briggs said there was no reason to.
"We are not going anywhere. We are burnt out. There is nothing that can burn, nothing at all. There is nothing that can burn in the Cudgewa area."