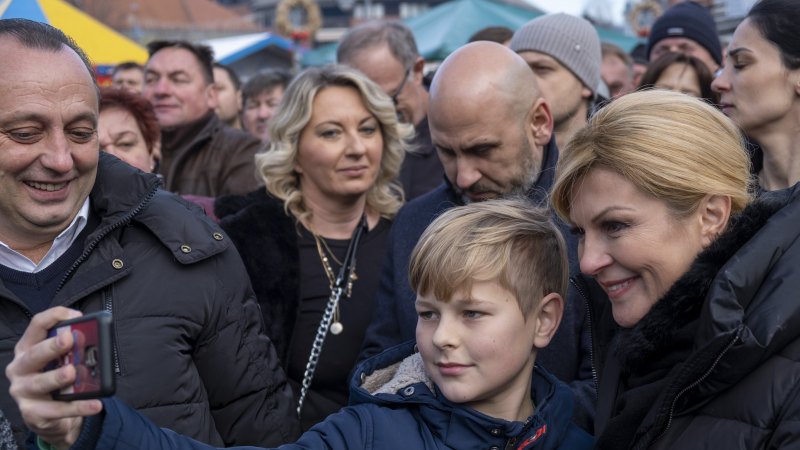 While the President's role is largely ceremonial, the office commands the armed forces and decides over foreign-policy appointments with the premier. A new term for Kitarovic would strengthen Plenkovic's position as he tries to stoke an economy that's trailing other eastern European peers after years of stagnation.
Loading
But Milanovic, prime minister during Croatia's double-dip recession from 2011 until 2015, beat the incumbent in a first round of voting on December 21. He has a seven-point lead in support with 48 per cent, according to a poll published December 23 by Ipsos.
The President's backing among conservatives soared in 2018, when she won international renown for images of her kissing Croatian soccer players during the country's run to the World Cup final. The 51-year-old is now counting on backers of the third-placed first-round finisher, singer Miroslav Skoro, who ran on a nationalist platform.
But her popularity took a hit before Christmas, when she was filmed singing "Happy Birthday" and giving a cake to Zagreb Mayor Milan Bandic. He's fighting corruption accusations over the granting of preferential access to stalls at Zagreb's Christmas market.
The scandal, in which Bandic denies wrongdoing, comes at a sensitive time for the Adriatic nation of 4.2 million, which joined the EU in 2013 and took over the EU's six-month rotating presidency on January 1.
Loading
The bloc is scrutinising Croatia's readiness to adopt the euro and join Schengen, the EU's passport-free travel zone. With corruption concerns delaying similar efforts in nearby Bulgaria, the prospect of the President supporting an official who's spent much of his career fighting corruption accusations may send the wrong signal.
It's also adding to headaches for Plenkovic, who's trying to rein in a bulging bureaucracy, stem the outflow of workers to richer EU nations and improve corruption that's seen as the bloc's fifth-worst by Transparency International.
"It's a close race, but the momentum seems to be with challenger Milanovic," said Tvrtko Jakovina, professor of contemporary history at the University of Zagreb. "Despite the maximum mobilisation of the ruling party, it looks like only part of Skoro supporters will back Kitarovic."