"We needed a win," Goulding said.
"They shot the ball incredibly well, credit to them, but we were able to grind out a win."
Tim Coenraad's 18 points led the Hawks while Todd Blanchfield had 14 points.
Melbourne's starting five were told to chase Illawarra off the three-point line but they failed to do that in the opening minutes as the Hawks broke out to an early lead behind 11 quick points from Coenraad.
Only Goulding's two early threes prevented a bigger deficit and United coach Dean Vickerman ripped into his players for conceding four threes.
It was the team's bench who steadied the ship late in the term as Jo Lual-Acuil nailed six late points to see the visitors up 28-26.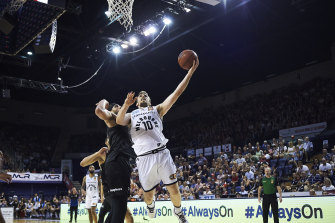 Melbourne had their chance to bust open the game in the second after scoring five points following an unsportsmanlike foul from Coenraad, while Goulding fired up late in the term, knocking down two threes and setting up Shawn Long (17 points) for a dunk as they led 55-50 at half-time.
The young Hawks took the ascendancy in the third term as Blanchfield fired up and youngsters like Angus Glover and Emmett Narr found their range.
Melo Trimble continued to struggle and Melbourne trailed 74-72 at three-quarter time. United had just four assists as a team, showing how their offence was faltering.
Shea Ili fouled out on a contentious foul early in the last term and the Hawks remained close until the final five minutes when Goulding came up with a three-point play, then Kidd nailed a corner three-pointer to push the margin to 10 points.
Goulding and Long put the finishing touch on the win linking up for an alley-oop, which Long slammed down with one hand.
Melbourne United play Adelaide 36ers in Adelaide next Saturday at 8pm AEDT.
Roy Ward is a Sports writer for The Age.