A southerly change promised to usher cooler conditions but no significant rain on Sunday, with the bureau predicting temperatures in the low 20s along the NSW South Coast and about 30 degrees in Penrith.
Loading
But the bureau spokeswoman said fire-ravaged communities would have to wait until Monday for potentially "useful rain".
According to the website World Weather, the hottest place in the world on Friday was Birdsville Airport in Queensland, where the mercury reached 46.8 degrees. That reading was surpassed by Saturday's temperatures in Penrith, where the previous highest recorded temperature was 47.3 degrees.
"Penrith will still be sticking around the 25 degree mark overnight," a bureau forecaster said.
Temperatures in inner Sydney were more than 10 degrees cooler though the city still sweltered, topping 35 degrees.
Air quality was poor throughout the city, and though thunderstorms were possible for later in the day, they were expected to bring little rain, if any.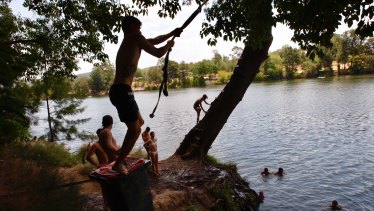 Conditions across Sydney and southern NSW were expected to worsen through the afternoon with a cool change and gusty winds predicted to play havoc with firefighting efforts.
The southerly change hit the NSW South Coast late on Saturday afternoon and into the early evening. It was expected to reach inner Sydney at 11pm, then move north into the Hunter in the early hours of Sunday morning.
At 3pm AEDT, 12 fires in NSW had emergency warnings.
In Penrith, German tourists Ben and Violet Wilkson told the Herald they regretted visiting the suburb during Saturday's heatwave.
"It's 10 degrees cooler at the coast; we will go back there soon," said the tourists, who came to Sydney's western fringe on the train.
Locals jumped from the popular tyre swing into the river in a futile attempt to keep cool, while the nearby park and playground were almost empty as people sought to escape the soaring temperatures.
St Clair man Liam Norman said he came to the Nepean to beat the heat.
Loading
"I'd believe it," he said about it being a record-breakingly hot day.
There were also reports the extreme heat has been leaving some mobile phones unusable.
Conditions were deteriorating across the rest of the north-west of the state, the bureau said, with high temperatures and strong winds leading to extreme danger amid the ongoing bushfire threat.
with Andrew Taylor
Janek Drevikovsky is an intern journalist at The Sydney Morning Herald.
Sally Rawsthorne is a Crime Reporter for The Sydney Morning Herald.
Most Viewed in Environment
Loading