Loading
The picturesque tourist towns, usually swarming with people this time of year, were near-empty, residents say, after police knocked on doors and town meetings warned them of the coming danger just kilometres away.
Some have gone on to other towns, but many – mostly the elderly, isolated or families with small children – have stopped in Wangaratta, where the Performing Arts Centre has opened its doors and the cathedral next door is ready to take any overflow.
The relief centre has also received a stream of locals offering bedrooms or even entire homes.
While the offers have been accepted, thanks to the coordination of the staff and volunteers at the relief centre, there are not enough to go around.
"We've got nowhere to go," Petra said. "You can't pay $160 for a hotel every night. We're only pensioners."
Even if they could, the rooms are fully booked, The Age has been told.
The five-strong Samarasinghe family arrived from Bright on Saturday morning after having had enough of smelling the thickening smoke and watching the ever-reddening sun.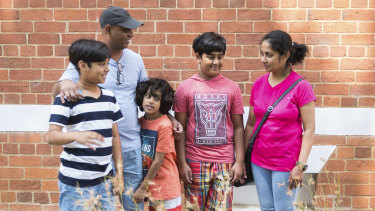 The three kids barely slept on Friday night.
"I just don't want to lose our house," Nikitha, 12, said.
"I don't want to lose my toys," Duleetha, 8, added.
Lakitha, 10: "I don't care. I just want to live."
For the Truslers, it was not an easy choice to leave their home of nearly two decades. But the news was grim. Fires were burning through much of the high country and, as temperatures soared past 40 degrees on Saturday, more were expected.
"If it was an ordinary fire, I'd stay and fight," Peter said. "We fought before, in 2006, but that was nothing like this.
"(Bright) is dead as dead as dead – everyone's been evacuated. My attitude is, if a firestorm comes through you're not going to stop it. Life is more important than the house."
Strahan Anderson, a 41-year-old gardener, lives in a block of flats in Bright. When his neighbours left on Friday night, he knew there was no point trying to stay and defend.
Also, his mum told him to get out. His niece needs an uncle, she told him.
"It's a ghost town now," he says. "This time of year we're usually packed to the rafters and we're flat out. It was eerie.
"But I'm quite glad, I think we've learned a lesson from Black Saturday. I've seen a lot of people here from Bright and I don't think many of them are staying."
Zach is a reporter at The Age. Got a story? Email me at zach.hope@theage.com.au