"She was born and raised in Cobargo – it has been tough," Jones said. "And Andrew Mills and Scott Chapman [owners of Mercurial Lad] are down in Bateman's Bay protecting their houses.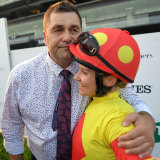 ''That was after his trackwork rider, Heath Parker, was told he had leukemia three weeks ago.
"It has been a very emotional four weeks for all of us. That was just good to see that win."
King came back and the first thing she said to Paul was: "I hope that can lift them and give them a boost.''
Mercurial Lad is a free-running galloper who had been struggling to find his form, but Jones said he was confident when the stable was able to book King, who had won in her only sit on the six-year-old, for the ride.
"He has just been going too fast, and I thought when we got Rachel to ride him, she might be able to get him to settle," Jones said. "The first furlong I was thinking 'you have gone too hard, you have gone too hard'.
"But then she got him back to running 11 [second 200m] sections and I thought 'you are going to be right'.
"He was just gutsy at the end when they were coming."
Mercurial Lad held off Destiny's Hero ($26) and odds-on favourite Word For Word ($1.80) to score and give King a winning double in consecutive races. She was proud of the fight Mercurial Lad showed.
"When he got in a rhythm like that I knew he was going to be hard to get past," King said.
"He just kept going and going and it was a good win. I'm just so happy he could do that for them."
Loading
Earlier King had been the punters' darling again when she was able to got Mushaireb to lift after being headed by Sir Plush and Reflectivity.
Mushaireb ($3.60) had led to the turn and looked beaten when the challengers came but fought back from the 200m to secure victory.
"The wind is hitting them when they come around the turn and is really effecting them," King said.
"He was floating early in the straight and then the horse on the outside of him [Sir Plush] came in on top of him and he shit himself.
"He could have given in but he just fought from there and he was very strong to the line.
"It was a really good win and he will probably get a bit further."
Racing writer for The Sydney Morning Herald