There are currently 13 emergency warnings and two 'Evacuate Now' directives active in Victoria, all of them in the East Gippsland area. 
The emergency warnings are active as at 8.30pm for:
Buchan, Buchan South. (Take shelter indoors) 
Brookville, Omeo, Swifts Creek, Ensay, Ensay Valley and surrounds. (Take shelter indoors) 
Benambra, The Brothers, Tom Groggin, Uplands. (Leave now) 
Buldah, Cann River, Chandlers Creek, Club Terrace, Combienbar, Hilo Crossing, Noorinbee, Noorinbee North, Tonghi Creek, Weeragua, Wingan River. (Take shelter indoors) 
Chandlers Creek, Maramingo Creek, Wangarabell, Wingan River, Wroxham. (Take shelter indoors) 
Anglers Rest, Benambra, Bingo Munjie, Bingo Munjie North, Brocket, Bundara, Davenport Village, Dinner Plain, Falls Creek, Flourbag, Glen Valley, Glen Wills, Hinnomunjie, Loch Glen, Louisville, Mayford, Mitta Mitta, Nelse, Omeo, Omeo Valley, Shanahan, Shannonvale, Sunnyside. (Take shelter indoors) 
Gelantipy, Murrindal, W Tree. (Take shelter indoors) 
Bendoc, Bendoc North, Bendoc Upper, Bonang, Buldah, Cabanandra, Club Terrace, Combienbar, Deddick Valley, Delegate River, Dellicknora, Errinundra, Goongerah, Haydens Bog, Nurran, Roaring Camp, Tubbut, Yalmy. (Take shelter indoors) 
Suggan Buggan, Wulgulmerang, Wulgulmerang East. (Take shelter indoors) 
Boggy Creek, Bullumwaal. (Take shelter indoors) 
Biggara, Tintaldra, Towong, Towong Upper, Walwa and surrounding communities. (Take shelter indoors) 
Berringama, Burrowye, Koetong, Lucyvale, Nariel Valley, Shelley and surrounding communities. (Take shelter indoors) 
Nowa Nowa. (Leave now before conditions become too dangerous)
The Evacuate Now directives are active for these two areas: 
Freeburgh, Harrietville, Smoko, Wandiligong and surrounding areas.
Abbeyard, Bennies, Cheshunt, Cheshunt South, Dandongadale, Edi, Edi Upper, King Valley, Rose River, Whitfield, Whitlands and surrounding areas.
Some of these warnings may well have changed by the time you read this post, or it is possible that the warning level remains the same but that the areas most under threat or the behaviour of the fires have been updated. 
The map below is updated every 15 minutes with data supplied directly by Emergency Management Victoria and is the best source of current warning levels and information: 
Like most Saturdays, the beers are flowing and the glasses are raised at the historic Euroa Hotel, about 50 kilometres south of Shepparton.
But the toasts today are not for the Magpies, the local footy and cricket teams, but rather the wind: a billowing south-westerly that came in with an afternoon cool change to push back a bushfire that had crept to the eastern fringes of town.
By mid-afternoon, about the time the flames shut down tens of kilometres of Hume Highway, authorities were advising residents to leave.
By evening, and with smoke still pouring off Balmattum Hill, but in the right direction, the alert level was downgraded to Watch and Act.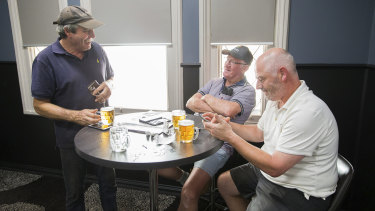 HMAS Choules, with almost 1000 people and 115 pets on board, docked at Hastings at 4.30pm, with the first bus load of people arriving at the Somerville relief centre about 5.30pm.
Friends and family embraced, as reality kicked in that the five-day ordeal had ended for most of them. About 800 people arrived at the centre, while 200 evacuees went straight to Melbourne.
The mood was buoyant but calm, and one woman carried a sign "inaction costs more".
Nineteen-year-old Jackie Stefanopoulous, who was on board HMAS Choules, had been holidaying in Mallacoota with her boyfriend and his family, when "all of a sudden we heard about the incoming bushfires".
"I was petrified, a lot of people were petrified," Ms Stefanopoulous said.
"The sense of uncertainty [was frightening], like not knowing whether we will be OK, understanding that there were bushfires surrounding us only a couple of metres. I feared for my life, it was really scary."
The Mt Waverley woman said she was running out of food and clean water, and that she had only slept for about 10 hours in total over four days.
She praised HMAS Choules crew, who she said had been "awesome".
US singer Pink has pledged $500,000 to help Australian firefighters.
"I am totally devastated watching what is happening in Australia right now with the horrific bushfires," she wrote on Instagram, "I am pledging a donation of $500,000 directly to the local fire services that are battling so hard on the frontlines."
"My heart goes out to our friends and family in Oz," she wrote. 
Meanwhile, comedian Celeste Barber's Facebook fundraising campaign for the New South Wales Rural Fire Service has generated a whopping $9.7 million (and rising).  
Emergency Services Minister Lisa Neville said the state government's determination to make rapid decisions in its firefighting effort helped limit losses on Saturday.
"We set about making decisions about how we save lives, that was our key priority," she said.
"Our focus today and in the last couple of days has been absolutely on saving lives, getting people to move out … and being able to make quick decisions like the Omeo evacuation."
Victoria Police chief commissioner Graham Ashton estimated that up north about 60-70 per cent of people had moved out. 
More than 450,000 face masks that filter out some of the fine particles in smoke will be made available to Victorians in bushfire-affected areas, the Health Minister has said. 
Health Minister Greg Hunt said the P2 masks had been held in the National Medical Stockpile for use in pandemics, but would be provided to high-risk people in bushfire areas. 
Those at highest risk of significant health effects from smoke include people over 65 years of age, children 14 years and younger, pregnant women and people with existing heart or lung conditions.
He said the state government would be responsible for distributing the face masks. 
The weather bureau has updated it's severe thunderstorm warning for the state, and the good news is that storm risk over the Dargo and Omeo regions has passed. 
Weather bureau senior forecaster Dean Stewart said the atmosphere had stabilised over the Omeo area, which had earlier been subject to a thunderstorm warning. 
"The risk of thunderstorms has declined enough that it is now not likely at all,"
But there is now a thunderstorm warning for parts of the Alpine area, which could cause damaging winds in areas near the Corryong fires before pushing on into New South Wales.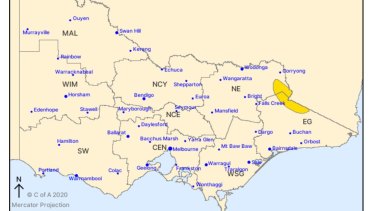 Mr Stewart said the area where the warning is currently in place was isolated, so there are not any readings of current wind speeds there. 
"This has been a very, very challenging day, but firefighters, our emergency services, all of our partners have done an outstanding job protecting many smaller townships."
"I want to congratulate those Victorians who, overwhelmingly, listened to the information provided, which is that if you can get out of these fire-affected communities, you must get out."
"That remains the advice."Mr Andrews said communities that promptly evacuated allowed firefighters to focus their efforts in a smaller area, enabling them to protect townships and property.
Saturday night and the early hours of Sunday morning would still remain "very challenging", according to Mr Andrews, with south-westerly winds and high temperatures forecast.
"Townships will continue to be under threat and lives can be lost if people don't follow the instructions they've been given … more [properties] will potentially be lost overnight," he said.
He said fire conditions would remain dangerous "well into next week".
A total of 50 people were evacuated by Australian Defence Force helicopters at Omeo today, Paul Sakkal reports. 
About 300 others chose to stay in the town, confident in CFA fire plans to protect the town.
Melissa Cunningham is in Bairnsdale, where shortly before 6.30pm a helicopter filled with evacuees from Omeo landed.
The evacuees included young children and families, who were escorted to a waiting bus which will transport them to the relief centre in Sale.
An emergency warning remains in place for Omeo (the warning has not changed since the 6.28pm post), urging people to take shelter indoors as it is too late to leave the area. 
That warning applies to Anglers Rest, Benambra, Bingo Munjie, Bingo Munjie North, Brocket, Bundara, Davenport Village, Dinner Plain, Falls Creek, Flourbag, Glen Valley, Glen Wills, Hinnomunjie, Loch Glen, Louisville, Mayford, Mitta Mitta, Nelse, Omeo, Omeo Valley, Shanahan, Shannonvale and Sunnyside.
Police and Emergency Services Minister Lisa Neville said the Victorian government "welcomed" the federal government announcement for increased military assistance.
"[We have a] strong partnership with the ADF," she said.
"This will help Victorian communities recover as quickly as possible." 
Earlier today Prime Minister Scott Morrison said additional firefighting aircraft had been leased to help put out bushfires, and Defence Minister Linda Reynolds that 3000 army reservists would be called up to help with the relief efforts.