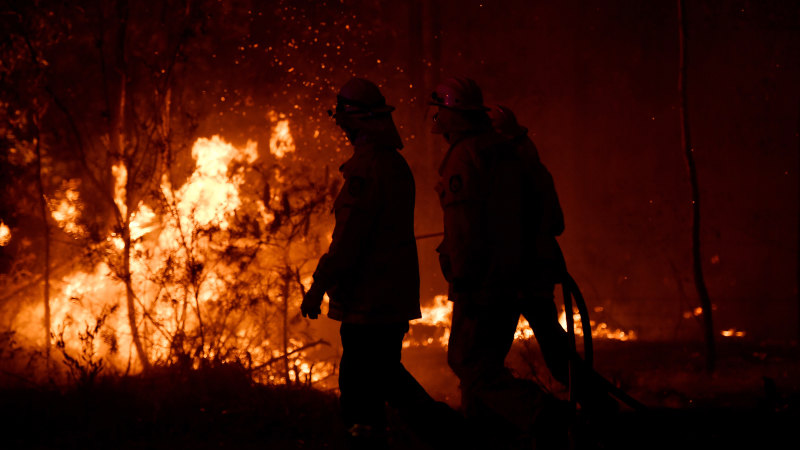 The Herald reported on December 31 that holidaymakers between Ulladulla and Culburra Beach including Jervis Bay were warned that escalating bushfires threatened to trap them.
Many parts of the NSW South Coast had already been ravaged by bushfires and worsening conditions forecast for Saturday prompted NSW Premier Gladys Berejiklian to declare a seven-day state of emergency last week.
The NSW Rural Fire Service initially declared a leave zone between Batemans Bay to the Victorian  border, but extended that zone to the area between Nowra and Ulladulla, including Jervis Bay on Thursday afternoon.
"These will be dangerous conditions, the same or worse than New Year's Eve," said the RFS on social media.
Ms Mulvihill was later told her booking would be postponed until Monday when her situation would be reconsidered.
"We wanted the holiday cancelled so we could look at somewhere else," she said. "But they haven't got to that stage yet."
Given the devastation already caused by bushfires, Ms Mulvihill did not believe the time was right to visit the NSW South Coast.
"I think we've realised we're not going," she said. "Now we have to wait until Monday to have that confirmed."
The owners of holiday rentals also face uncertainty over how to deal with holidaymakers seeking to postpone or cancel their bookings.
One owner, who declined to be named over concerns she would lose her Airbnb "super host" status, said there was a lack of information provided by holiday rental sites.
Loading
She said her property at Bundeena was not threatened by bushfires but was affected by national park closures.
"To be honest, I spent ages on the phone to Airbnb the other day and didn't get a very conclusive response," she said. "What they told me is we'll treat it case-by-case."
Airbnb's call centre operators told the owner they had maps indicating the location of bushfires that were regularly updated, but she doubted whether they were aware of road closures in areas not directly under threat.
"On a personal level, I got a response and they were very nice," she said. "Was it conclusive? No. Have they put out a lot of info to hosts? No."
Loading
However, owners without bookings have been opening their rental properties to firefighters and people displaced by the bushfire crisis.
An Airbnb spokesman declined to comment. Airbnb's cancellation policy states that it will review individual cases to determine if a natural disaster has prevented guests travelling to a destination or made it unsafe to host guests.
A Stayz spokeswoman said holidaymakers should contact the property owner directly to cancel their booking "as the rental agreement is between the traveller and the homeowner".
Andrew Taylor is a Senior Reporter for The Sydney Morning Herald.