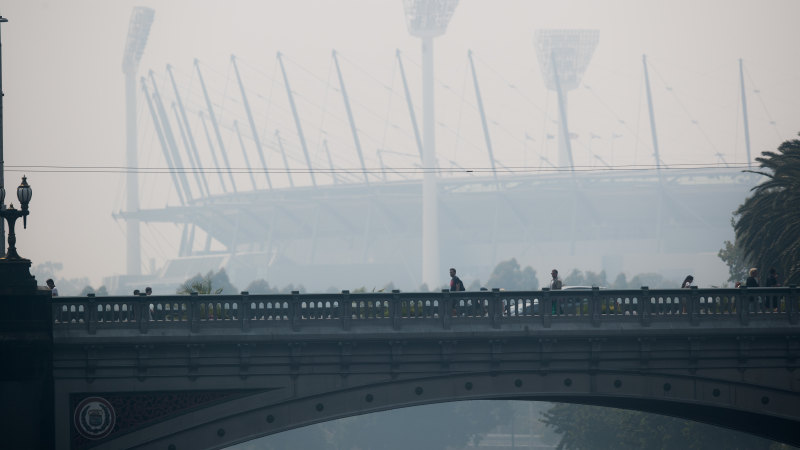 "Open up your windows and doors today, then make sure they're all shut tonight before the smoke comes over."
Loading
The smoke from the Tasmanian fires isn't likely to join with smoke from the East Gippsland or north-eastern fires currently burning, but air quality in fire-affected regions is also likely to be hazardous on Monday.
"People in fire-impacted areas have been dealing with the smoke for a number of days now and that's going to continue, unfortunately," Dr Hinwood said.
"Bright in particular has been significantly impacted with hazardous at times air quality and it's likely that will continue into Monday."
Bright's air quality was rated hazardous on Sunday afternoon, while fire-affected areas such as Wangaratta and Omeo had "very poor" and "poor" ratings respectively.
Following Friday's hazy conditions, Chief Health Officer Dr Brett Sutton warned that hazardous smoke haze could cause or aggravate health problems in people aged over 65, children aged 14 and younger, pregnant women and those with existing heart or lung conditions.
He also said many people might experience coughing or shortness of breath.
While masks were an option, Dr Sutton warned that only certain types were suitable.
"Ordinary paper dust masks, handkerchiefs or bandannas do not filter out fine particles from bushfire smoke and are generally not very useful in protecting your lungs.
"P2 or N95 masks filter bushfire smoke, providing greater protection against inhaling fine particles.
"Masks should not be a substitute for avoiding smoke exposure and can provide false reassurance, so ensure that anyone using a mask understands the need to follow all advice regarding smoke."
Tate Papworth covers breaking news for The Age.