That's a wrap from the blog today from us at the Herald. Thank you for following along today.
More coverage of today's fires can be found here. 
Sunday afternoon has seen bushfire conditions ease across the state, though nearly 150 fires are still alight across the state. 
No fires were burning at an "emergency" level on Sunday evening, but eight remain at "watch and act" level.
The NSW RFS said firefighters have "gained the upper hand on several dangerous fires" on Sunday.
A fire burning out-of-control in bushland at Voyager Point, in Sydney's west, has been downgraded to an "advice level". Fire crews spent the afternoon dumping water onto the blaze.
There is no current threat to homes in the area.
The easing conditions draw to a close a devastating week of bushfires across the country. 
Emergency services have spent the afternoon conducting surveys to determine how many homes were lost this weekend, but the RFS suspects it was hundreds.
Areas thought to be hardest hit include Bundanoon, Wingello, Batlow, Adelong, the Jervis Bay area, southwest of Nowra, Boydtown, Kiah, Wonboyn, Towamba and Cabramurra.
Conditions are expected to be reasonable in the early week, before heating up by Thursday, with NSW RFS Commissioner Shane Fitzsimmons urging people to remain vigilant to the risks. 
With AAP
Families across the South Coast have been left "driving around or sleeping in cars" after their properties have been ravaged by bushfires.
"Our farm and house burnt down today and I am trapped from getting home. I don't know if my horses survived," a dental surgeon near Mount Hotham said.
Families have also struggled to return home due to evacuation orders and road closures.
A Batemans Bay resident said: "We're stuck outside for a while due to highways being closed and conditions unsafe to return home as of yet."
There has been an outpouring of support for people that have been made temporarily homeless, with people as far as New Zealand offering to share their homes to provide free accommodation.
Facebook communities have emerged as a key source for people to seek safe spaces and receive assistance such as food and everyday necessities.
NZ Accommodation for Australians Affected by Bush Fires is a Facebook group connecting Australians displaced by bushfires with Kiwis who want to provide shelter.
"It's a long shot but at the rate Australia is burning, NZ might be the closest, safest option for those that have lost their homes," the founder told the Herald.
Melissa Cleaver, a pregnant mother of three, said her husband had been planning to "sleep in a tent with the dogs", but she found accommodation in Tuggeranong by posting on the Bushfire Emergency Accommodation for Canberra Facebook page.
"We have two dogs, so I asked if there were homes that would accept pets. The situation has been really hard. We had to evacuate twice. We aren't allowed home for I don't know how long," she said.
Ms Cleaver has been overwhelmed by the generosity of Facebook users who have also offered to donate everyday essentials.
Residents seeking shelter or assistance can also find help through Airbnb homes, with select houses extending free disaster relief accommodation.
Damian Campbell-Davys, a water tanker driver, got an unexpected cab mate when he spotted a juvenile koala staggering out from a row of pine trees after fires tore through the region near the town Nerriga.
On duty to fill up the tanks of fire trucks, Mr Campbell-Davys found himself slaking the thirst of the disoriented and thirsty marsupial for an hour and a half from his water bottle.
"After the horrors of yesterday, it just made my day," he told the Herald, as he waited for the next fire truck to fill from his 10,000-litre tanker. "A little ray of sunshine in this nightmare."
Read the full story here.
A man who died while fighting fires on a friend's property near Batlow was urged by his family to leave, but he refused to abandon his mate.
David Harrison, 47, was found unconscious on a farm on Batlow Road around 6:30pm on Saturday.
He suffered a suspected heart attack while transporting water.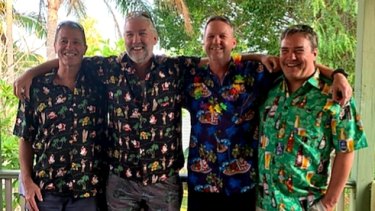 Mr Harrison from Goulburn, had travelled to the region after Christmas to stay with school friend Geoff Purcell.
When the Dunns Road blaze flared to emergency level on Saturday, Mr Harrison's three older brothers had texted him, begging him to get out.
"He didn't want to leave Geoff on his own. He was just that sort of guy, he'd help anyone at the drop of a hat", brother Peter Harrison told Nine News.
Mr Harrison told his siblings they had a plan to get out.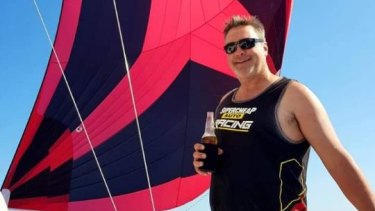 When he failed to return from a water run, Mr Purcell found him slumped in the driver's seat of their ute.
He had no prior heart conditions.
New Zealand's biggest city turned an ominous orange colour on Sunday, as smoke from Australia's bushfires drifted in across the Tasman. 
Tomorrow is set to be Sydney's "wettest day" in recent weeks according to the Bureau of Meteorology, with the south-east corner of the state to enjoy extra relief.
Some rain has just started to fall on Sunday afternoon in patches across the state, with more expected on Monday. 
Perisher Valley has received the most so far, with 5.4mm on Sunday.
Rain is now falling over Bundanoon in the Southern Ranges, which local firefighters say is preventing the fires from spotting, but not enough to stop it.
Meanwhile, less than a millimetre has been recorded near fire fronts in Bega and the Kangaroo Valley, though more is on its way. 
Up to 15mm of rain is expected to fall on fire grounds near the Victorian border on Monday, assisting the effort to contain out-of-control blazes in the Bega Valley.
However, Sydneysiders shouldn't get too excited.
"We're not expecting significant rainfall," said a Bureau of Meteorology forecaster.
Between one and six millimetres are predicted through Monday and on Tuesday morning, before Sydney "generally dries up again".
At the end of the week, conditions are back to being hot, dry and windy.
Friday is anticipated to be the most dangerous day for fire crews, with dry westerly winds expected to make firefighting particularly challenging.
Telstra CEO Andy Penn has announced that its payphones will be free for use to make local, national, and standard mobile calls across the country from Monday. 
"We know these catastrophic bushfires have impacted communities, families and individuals and staying in touch with loved ones is vital throughout these times," Mr Penn wrote on Sunday.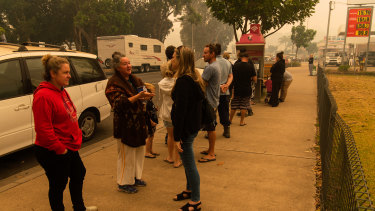 "This free service will remain in place until further notice and we hope alongside our disaster assistance packages across all impacted states it is in some small part another means of assisting communities and individuals that have been impacted by these terrible bushfires."
With intermittent power outages and iterruptions to phone service plaguing many towns affected by bushfires, queues of people have been spotted queueing for payphones. 
The payphones were already made free to residents in NSW, Victoria, South Australia and Queensland, but the move will extend the benefit to states not yet affected by bushfires. 
"Our teams are continuing to work around the clock with emergency services to access infrastructure in order to get services back online. However as I have said previously, this may take time given a lot of these areas are still inaccessible."
Foxtel also announced a bushfire package on Sunday for those affected by the blazes, including free installation of Foxtel in temporary accomodation, and free suspension of services for affected customers. 
Australian tennis champion Ash Barty has pledged to donate her entire Brisbane International prizemoney to the Red Cross bushfire appeal.
If she wins the competition, this will mean a donation of $US250,000, or almost $360,000 locally.
Her announcement came after tennis players including Nick Kyrgios, Alex de Minaur, John Millman, Sam Stosur, and Dylan Alcott pledged to donate hundreds per ace in their competition, with Kyrgios amassing $4000 in his first match. 
Meanwhile, Football Federation Australia has announced it will raise funds for the fires throughout the next two rounds of the A-League and W-League. A charity match involving international soccer stars, has also been proposed for May.
Residents who have fled the far South Coast town of Eden have described the situation as "terrifying" with the sky turning "pitch black" and a deep orange veil enveloping the region.
A local business owner, who declined to be named, told the Herald there's "thick debris and ash everywhere," making it difficult to see and breathe during her evacuation.
She said the mood has been "very strange" and "sombre", with the community worried about the future.
"It's been chaotic, we don't know what's going on," she said.
The resident said she evacuated before the official police warning, after her daughter called from the United Kingdom.
"My daughter is studying abroad in England and she was worried and called me crying. She enforced the evacuation. It's been terrible for the kids who don't know if we're OK," she said.
She said her business had been shut "since Friday," with no clear time frame of when it will reopen.