Thanks for joining us for today's blog, on a day that has provided some temporary relief from hot and windy weather for much of the state. 
As of 8.45pm, there are two emergency warnings active, both in the far east of the state in the Wingan River and Chandlers Creek areas. But much of East Gippsland and the Alpine region is still on heightened alert, and at this stage it looks likely that there will be another period of high fire risk later in the week, around Thursday or Friday. 
We'll be back with a live blog from early tomorrow morning, so be sure to check back in with us then. This is my fifth live blog session in the past seven days, so they're becoming a staple of our fire coverage. On that note, if there is anything that the blog could be doing better, please shoot me an email: craig.butt@theage.com.au  
I'll leave you today with this photo of 'Tinny Arse', a koala that was rescued in New South Wales and now seems to be considering a career as a tanker driver.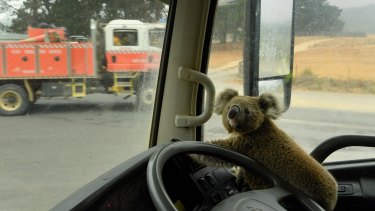 The Royal Australian Navy has just tweeted out this video on its operation to get more than 1000 people (plus more than 100 pets) out of bushfire-ravaged Mallacoota and to safety in Melbourne: 
A sense of unease lingers in remote East Gippsland, where wild bushfires have burnt and threatened towns twice in a week.
Those who have already faced two separate fire fronts still dread the flames predicted to return over the long, cruel summer weeks to come.
Brian and Elizabeth Blakeman have defended their Wairewa home from out-of-control bushfires using sprinklers and fire hoses twice in five days.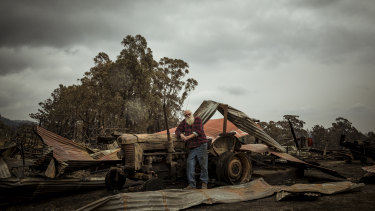 On Saturday they took turns sleeping through the night as an inferno ravaged the bushland near their home, sparking spot fires from trees.
Authorities warned that the 25 fires across the state could continue to burn for at least another eight weeks.
"I heard on the news last night they could burn for months," Mrs Blakeman said. "I don't think I could cope with that. It worries me there's trees that haven't quite caught alight and they are now so dry. We're only at the beginning of summer."
There are currently 31 active fires across the state, down from the 39 that were burning throughout the state about 12 hours ago.
But it's not exactly good news – it's not that eight fires have been extinguished but more than some of the fires have merged, Emergency Management Victoria says. 
Of these 31 active fires, 19 are in East Gippsland and six are in the Hume region. 
More than one million hectares have now been burnt by fires across Victoria.
In case you missed it, earlier today Premier Daniel Andrews said those who wanted to help in relief efforts for bushfire-affected parts of the state should donate money rather than clothes or food. 
THe said there were not enough people nor enough warehouse space to be able to sort through food or clothing donations and distribute it among those in need. He said cash donations ensured the communities themselves would be best placed to best use the funds. 
The state government has partnered with the Bendigo Bank and the Salvation Army to set up a Bushfire Appeal fund in which all of the amount donated goes to communities in need.
Residents in fire-impacted Gippsland communities have been put on notice over unscrupulous doorknockers requesting sham donations for the Victorian bushfires relief effort, Michael Fowler and Sarah Danckert are reporting.
Police said on Sunday they were aware of rumours of scammers knocking on doors in Bairnsdale, Metung, Lakes Entrance and the surrounding areas, which many residents have fled, raising concerns over lost funds and the possible targeting of empty homes.
An emergency warning for the Lake Buffalo area has been downgraded to a 'Watch and Act'. 
This 'Watch and Act' applies to Barwidgee, Bobinawarrah, Bowmans Forest, Buffalo Creek, Buffalo River, Carboor, Carboor East, Carboor Upper, Dandongadale, Edi Upper, Everton, Gapsted, Kneebones Gap, Markwood, Meadow Creek, Merriang, Merriang South, Milawa, Mount Buffalo, Myrtleford, Nug Nug, Rose River, Whorouly, Whorouly East and Whorouly South. 
It states that residents are able to return to their properties, but should continue to monitor fire conditions. 
The Evacuate now alert for Freeburgh, Harrietville, Smoko and Wandiligong has been downgraded to a 'Watch and Act'.
The warning states: residents are able to return to their properties, however, should continue to monitor conditions and stay up to date with fire information.
The air quality has been rated as hazardous in Bright today, while in Wangaratta the air has been given a 'Very Poor' rating.
Closer to Melbourne and east of Sale, EPA air monitoring sites have found the air quality to be good.
However, smoke from fires in Tasmania could drift north into Victoria tomorrow, causing smoke haze similar to Friday's smoky conditions. (see 5.04pm post) 
The EPA's Andrea Hinwood has urged Melburnians who want to ventilate their homes to open their windows tonight, before conditions potentially shift tomorrow. 
Bairnsdale Chamber of Commerce and Industry president Jaime Savory says she expects the economic impact of the fires on the East Gippsland region to be significant, with tourism and agriculture sectors hard hit.
"This is the time of year that tourism businesses make their money to survive the quiet months in winter," she says.
She says it's not just tourism operators – like hotels, pubs and property rentals – that will be hit hard by the impact of the fires but businesses servicing those industries like cleaners and food suppliers.
Ms Savory urged those wanting to donate to the bushfire relief effort to donate cash to the Gippsland Emergency Relief Fund rather than food or clothes, which they have been inundated with in recent days.