With the residents' resounding reply, advice from the CFA and strike teams of firefighters to protect them by the time the fire arrived mid-afternoon on Saturday, Mr Steet, the chief executive of Omeo District Health, decided to stay.
"We made the right call," he said. "Staff at the hospital were calm, the residents were calm, everybody was exceptionally professional."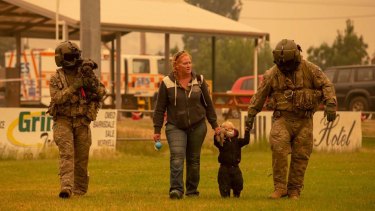 Omeo, surrounded by high mountain ranges in East Gippsland, was so vulnerable to fire on Saturday that the defence force sent choppers in and evacuated about 40 people.
Shane Peach, from the Tambo Valley SES, put his partner's four teenagers on one of the choppers while the couple stayed behind.
"They were leaving their mum behind. They said, 'look after mum for us'," Mr Peach said. "It was a bloody emotional day."
In the township, locals could see the glow at Mount Mesley by mid-morning before a visible split in the fire plume. Flames roared over the ridge line – "It would have gone 500 metres in 10 minutes," Mr Steet said – and had reached Mountain Maid.
Omeo was under ember attack.
"It just calmed down," Mr Steet said. "But for the CFA and the turn in the weather, it could have been a totally different story."
The consensus around Omeo on Sunday was that the town dodged a bullet – because of the speed of the firefighters in extinguishing spot fires and thanks to the southerly wind change.
Kudos was also given to a pilot from Benambra who is said to have ignored the orders of authorities not to fly, taking his plane up to waterbomb the flames.
Debbie Swift works at the Omeo FoodWorks, but on Saturday she was helping out at the relief centre where about 200 people had come for help in the six hours she was there.
Her dad is a resident of the aged-care home.
"Probably the best place to stay was where he was. The hospital is very safe so I was pleased with my dad being up there," she said.
After moving cattle to the house, Tania Crisp spent Saturday sitting at her front gate at the Omeo end of Cassilis Road watching the fire come towards her.
Her partner and his sister lost 90 per cent of their cattle grazing land and 130 bales of hay, but they moved the animals down to the river and saved them.
She sent her daughter to Shepparton two days ago, while her son – as one of the main CFA members in town – fought the fires.
"This time we've dodged a bullet, but we've got more bullets to come yet," Ms Crisp said.
Tammy Mills is a Crime Reporter for The Age.