She said she would make a concerted effort to soak up every moment of the Australian swing, embrace the support and the crowds, rather than see them as a burden to be carried.
Loading
"I know that I've done all of my work and all of my training well. I've done it to the best of my ability and now it's about coming out there and competing. That's why we do all the hard work. It's why we put in all the hours, just to come out and enjoy the competition," Barty said.
"And that's the challenge for me is to come out here and enjoy it, soak up the crowd, soak up the fact that as Australians we get to spend the first month in Australia. It's really special.
"It's obviously an amazing time of year for us and I mean it doesn't really matter what the result is, it's more about me just going out there and giving it a crack and being the best that I can be."
Barty's coach, Craig Tyzzer, has already been hatching plans to add more silverware to the Barty cabinet in 2020. Her game suits almost every surface and her gains in 2019 could yet be the tip of the iceberg.
"Look, I don't know with Ash. She's really made strong gains very quickly in lots of areas so I actually don't know what her peak is, what that's going to be," Tyzzer said. "Right now it's pretty good. So if it can get better, it's going to be pretty amazing.
"She's constantly putting time and effort in and the fact that she's done well has also given her a boost. It's made her think, 'OK, what I'm doing is right and if I keep pushing hard I can go further'.
"So we've still got some areas where I think she can really improve and hopefully she can sustain what she's been doing the past year over the next few years."
Barty is a fine doubles player and Tyzzer wants her to spend more time at the net as well as add some more pop to her already powerful forehand. Her slice backhand has become one of the best weapons on the WTA Tour.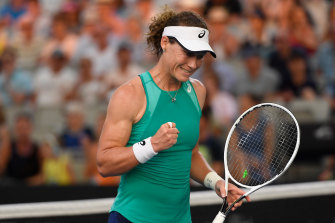 "It's starting to get there. In singles, she's been quite reluctant to do it (volley). She enjoys playing from the back of the court.
"But she's got such a good transitional game and volley that she needs to co- ordinate that more with what she does."
Brisbane International qualifying began on Monday, along with some of the main draw matches. The major casualty was Britain's seventh seed Johanna Konta, who lost to Czech Barbora Strýcová 6-2, 3-6, 6-3.
But there was much better news for Australian Sam Stosur, who enjoyed some rare success at the tournament with victory over world No.18 Angie Kerber 7-6, 7-6.