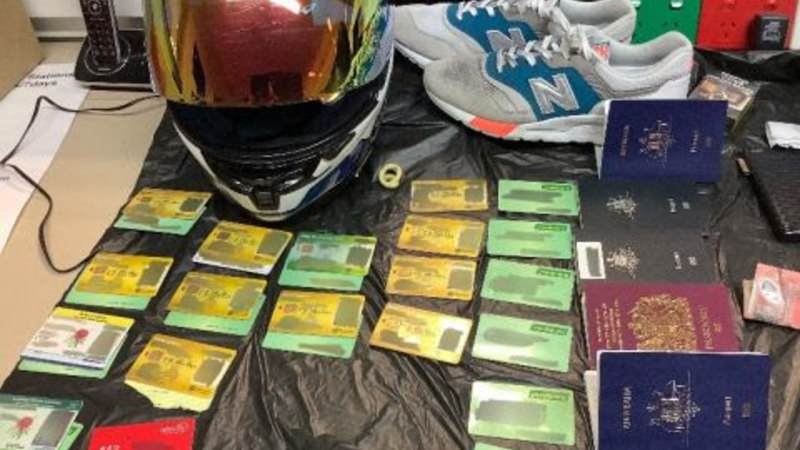 The highest of these were three occasions when the motorcycle was detected travelling at up to 178km/h on the Gympie Arterial Road and three more at speeds of up to 155km/h in the Airport Link Tunnel at Wooloowin.
On his arrest the man was in possession of a backpack allegedly containing methlyamphetamine and a set of scales, along with 13 Queensland and New South Wales driver licences, four Australian passports, a UK passport and 13 Medicare cards.
He was charged with 36 drug, traffic and tainted property offences and is due to appear in Brisbane Magistrates Court on February 3.
In September last year, police arrested a Taigum man alleged to have ridden his motorcycle at 205km/h through a 70km/h zone on Sandgate Road, Boondall.
Despite only having a speed camera image of the bike from the April incident – without registration plates – investigators identified the model and trawled databases to find its previous owner.
They were then able to track down the new owner and execute a search warrant on a Taigum home where they found what they alleged to be the exact jacket and helmet worn by the rider in the image.
The 27-year-old pleaded guilty in Sandgate Magistrates Court on November 8. He received a 12-month licence disqualification and 15-months probation.
"The moral of these two examples is two-fold," acting Superintendent Peter Flanders said.
"Firstly, don't use our roadways as speedways. Don't endanger everyone with your recklessness and stupidity.
"And secondly – if you do, we have a specialised unit dedicated to identifying and tracking you down."