Detective Senior Constable Jason Barry-Bassett said the man stole jewellery which belonged to customers and had been in the store for repairs.
"He just removed the whole trays of predominantly large opal stones set in necklaces," he told radio station 3AW.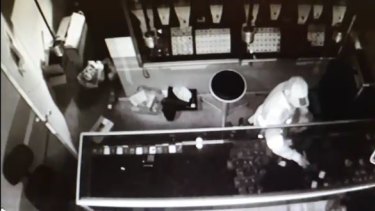 "He had a bit more of a look around the store and then just carried the trays out relatively casually.
"The first time that we see that male at the door an hour earlier he's not wearing that [high-vis] shirt so maybe in the break he's gone and thought it looked less suspicious if he was walking around in a high-vis top."
CCTV footage from inside the store shows the man grabbing dozens of items from glass cabinets.
After a stocktake following the burglary, the jewels stolen were estimated to be worth $250,000.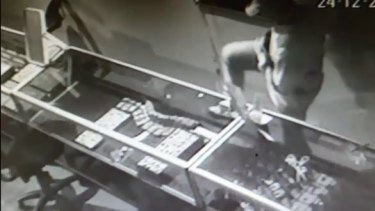 "I guess one of the sad aspects of this particular case is some of that jewellery belonged already to customers and was in for repairs. One of those concerns is jewellery like that often takes on a higher sentimental value to the owners," said Detective Senior Constable Barry-Bassett.
"The business owner ended up wearing the full cost and the customers lost sentimental pieces as well."
He said some were heirlooms and were of high sentimental value.
Asked about reports that the pair were acting suspiciously and looked like they were pretending to be homeless prior to the first break-in, he said their behaviour was "a bit odd".
"They spend a bit of time sitting around, they could be just unorganised or there are some locks and sliding bars at the bottom of the door. So it's possible they are trying to get a better look and make sure there aren't other locks on the door they haven't seen before they commit to breaking the lock," he said.
"We are very confident we will find these people and it's just a case of how long it takes and we would like it to be sooner rather than later to recover as much jewellery as possible."
Given the nature of the items stolen – which included a distinctive opal design – police may be able to trace them back to the seller if they discover they've been sold.
The man who took the jewels has been described by police as of Caucasian appearance, less than 180 centimetres tall, with a thin build, aged between 40 and 50 and with a distinctive wedding band.
The second man involved in the initial failed break-in is described as Middle Eastern in appearance, 180 centimetres tall, with a thin build and aged between 40 and 50.
"There's always people around the city but it's certainly not a busy time, we are hoping maybe someone saw this male, he carries the trays out into Little Bourke and takes off the high-vis top and uses it to cover up the trays of jewellery and then walks down another alleyway off Little Bourke Street," said
"We are hoping maybe someone has seen him getting into a car or knows his identity, if they could pass that information along anonymously on Crime Stoppers."
Anyone with information is urged to contact Crime Stoppers on 1800 333 000 or file a confidential report at www.crimestoppersvic.com.au.
Simone is a crime reporter for The Age. Most recently she covered breaking news for The Age, and before that for The Australian in Melbourne.