"We're going to see a spike in heat by Friday," Mr Brittain said.
"A trough will be affecting eastern parts of Western Australia, across South Australia and western parts of Victoria on Thursday, before moving into eastern parts of Victoria and NSW on Friday.
"A cool change is due to arrive Friday morning for South Australia and western Victoria. For eastern Victoria it should arrive late Friday afternoon, and into the evening for the south-east of NSW."
Mr Brittain said those conditions were similar – although not as severe – to Saturday, when fire zones baked under soaring day-time temperatures before the winds picked up after dark.
"It's particularly problematic for firefighters," Mr Brittain said.
Wind gusts of up to 80 km/h are forecast for the NSW South Coast and eastern Victoria.
Bureau of Meteorology senior forecaster Rosemary Barr said stormy conditions across large swathes of NSW would linger until Thursday, before the next burst of higher fire danger conditions on Friday.
But she said temperatures that hovered around the low-to-mid 30s, coupled with high humidity levels, meant the "really elevated fire dangers won't really make their way through" to coastal NSW.
"The east looks at this stage to have lower temperatures than we will see in western NSW."
Loading
Ms Barr said recent high fire danger conditions across NSW were driven by a powerful combination of hot temperatures, very dry air and windy weather.
"In the east on Friday we will have windy conditions, but the heat won't be quite as dramatic, we won't be seeing those high 30s, lower 40s temperatures.
"And persistent easterly winds are bringing maritime air, so we'll continue to see really moist conditions."
NSW Rural Fire Service community safety officer Marty Webster said on Monday that rain that had fallen in the south-east NSW had allowed firefighters to get on the "front foot".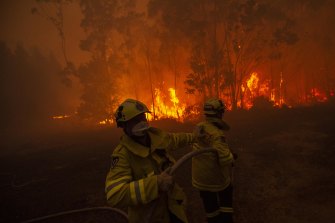 "We are not out of the woods yet, but conditions have eased over all the fire grounds. It has given us the opportunity to get on the front foot rather than just defensive firefighting," he said.
Megan Gorrey is the Urban Affairs reporter at The Sydney Morning Herald.
Most Viewed in Environment
Loading