"Larelle Rielly's sons have been asking a lot of questions at the moment regarding the bushfires that have swept the country. The biggest question has been: 'How can we help?'," Constable Cornish said.
"What do north Queenslander's love to do in the summer months? Enjoy a cool refreshing drink.
"With the help of their mother, the two boys set up a table, umbrella, handwritten signs and, of course, an esky full of icy cold lemonade.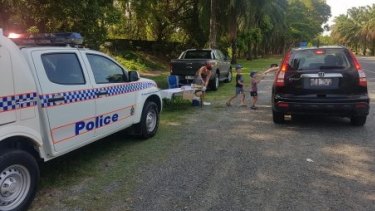 "With all things, exposure is the key so with the police on-site, the boys moved their stall to the main road of Port Douglas, a nice shady place under the palm trees of Port Douglas Road.
Loading
"We also decided this would also be the perfect place to set up a roadside breath-testing site.
"The drivers were waved in for breath tests and license checks and once in the clear, they were greeted by young Jack, Will and their lemonade stand.
"With young kids such as Jack and Will taking part in such a selfless charitable act, it warms the heart and comforts us with confidence that the future generations are on the right track."
Donations for Australia's bushfire victims can be made through the Australian Red Cross, St Vincent de Paul Society, Salvation Army, Food Bank, Celeste Barber's Facebook Fundraiser, World Wildlife Fund, Port Macquarie Koala Hospital, WIRES and Gippsland Emergency Relief Fund.