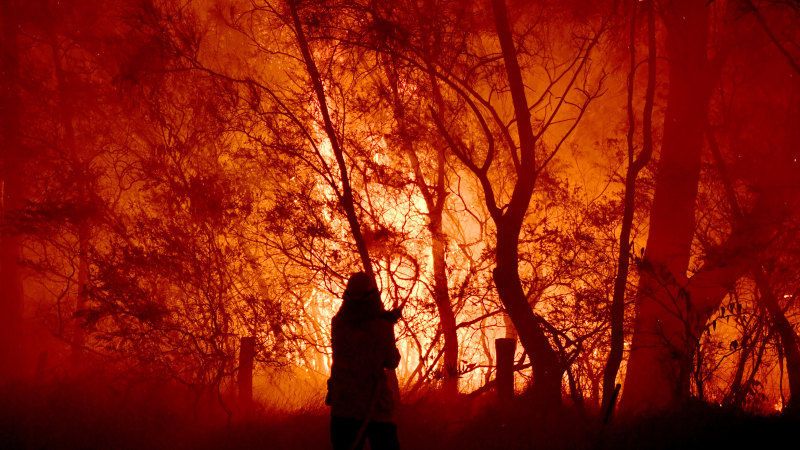 Loading
Australian residents who can prove they lost income as a direct result of the fires in their postcode can access 13 weeks of income support equivalent to Newstart through the government's Disaster Recovery Allowance, but Ms Gibbons said this would not be enough for many.
"It's going to take longer than 13 weeks to rebuild these communities," she said.
Australian Industry Group chief executive Innes Willox said some employers had continued to pay staff unable to work in fire-affected areas "even though there has been no legal obligation to continue to do so".
"Many employers have reached agreement with their employees that annual leave, personal or carer's leave will be taken, or have allowed employees to work from home," Mr Willox said. "Also, a large number of employers have continued to pay employees who have volunteered to fight fires with the RFS or the CFA."
Retail and Fast Food Workers Union secretary Josh Cullinan said members had reported vomiting at work after feeling sick from the smoke haze and heat but its advice to stay home on hazardous days was "falling on deaf ears" for those who needed income.
"Casual workers don't feel they have a choice to stay away, they don't have months of savings or annual leave," he said. "If someone needs to feed their kids and put a roof over their heads, they go to work."
While Canberra public servants from the Department of Home Affairs were told to stay home earlier this week as the nation's capital recorded the worst air quality in the world, stevedores are fighting port operator DP World, which the Maritime Union of Australia says docked the pay of workers who stopped work over air quality and heat concerns. DP World declined to comment.
Australian Council of Trade Unions assistant secretary Scott Connolly said tens of thousands of workers faced "an uncertain future as a result of this crisis".
"Those in insecure work have even less to fall back on and will have difficult weeks ahead as they try to return home and rebuild their lives," he said.