That's all for today's live coverage of Victoria's bushfires on Tuesday January 7th.
Our live blog will be back later in the week when the fire danger is set to increase again.
There are 12 fires currently burning. 1.2 million hectares have burnt, and more than 1000 livestock are dead, with thousands more 'missing'.
State authorities and Premier Daniel Andrews warned people in areas of fire danger against being complacent later this week, when 30 degree temperatures are forecast for much of Victoria and the mercury may rise to 40 degrees in the state's north-east.
"[Advice] messages will be sent out Thursday and Friday this week. They are about life and death, and people need to remain vigilant," Mr Andrews said this afternoon.
"This is not over by a long shot."
In a bid to neatly categorise the large bushfire zone, two of the four fire complexes were renamed this evening.
The East Gippsland fires west of the Snowy River have been called the "Tambo Complex", while fires east of the river are called the "Snowy Complex".
The two fire complexes in north-east Victoria near Corryong are not yet named, because impact assessments on the ground and by ADF aircraft have not yet taken place.
Top comedians including Wil Anderson, Hannah Gadsby, Dave Hughes and Judith Lucy will come together for a one-off show to raise funds for bushfire recovery efforts.
On Monday January 20, the Stand Up For Bushfire Relief special will be held at the Palais Theatre.
Tickets – which go on sale tomorrow at 2pm from Ticketmaster – will cost $70. All revenue will be donated to the Victorian Bushfire Appeal. You can buy tickets here.
Other acts include Tommy Little, Joel Creasey, Cal Wilson, Nick Cody, Rhys Nicholson, Nazeem Hussain, Tom Ballard, Denise Scott, Frank Woodley.
Essendon captain Dyson Heppell will shave his famous mop of hair to raise money for the Gippsland region, where he grew up.
After making the announcement yesterday, the star midfielder's GoFundMe page has raised almost all of its $150,000 target.
"Being a proud Gippy boy, I have felt particularly distressed about what is happening to our beautiful land and people's homes, as well as our wildlife affected in the area," he wrote in the GoFundMe page.
"All funds from the campaign will be donated to the Gippsland Emergency Relief Fund and Wildlife Victoria."
"While there is still plenty to be done collectively, we all want to help in any way we can – big or small. So, I'm finally going to shave the locks off to try to raise $50k this week."
The Mount Macedon Volunteer Fire Brigade has warned people in its local area that people in clothing resembling SES and CFA outfits were doorknicking for donations to fake charities.
"These fundraising activities are fake," read a Facebook post by the brigade.
"If you've already generously donated, or are planning to do so, you can now use a special hotline to confirm the legitimacy of various appeals and report suspected scams."
Earlier today, Emergency Services Minister Lisa Neville responded to reports of fraudulent appeals for money to help bushfire victims by advising would-be donors to use only genuine charities. She condemned those behind the fraud attempts.
"All I can say is this is the lowest of the low, so can I recommend to Victorians, so many generous Victorian who want to give, to look up the Bushfire Appeal, that's the safest way," she said.
"This is money that will go back to families."
Liberal MP Craig Kelly has apologised to a British television host and meteorologist after demeaning her as a "weather girl" in a now-deleted Facebook post, following a fiery live interview on top-rating program Good Morning Britain.
In an exchange that garnered worldwide attention and frustrated Mr Kelly's Coalition colleagues amid the bushfire crisis, the outspoken backbencher was savaged as a "climate denier" by hosts Piers Morgan and Laura Tobin.
Later, Mr Kelly described Tobin as an "ignorant pommy weather girl" in a post on his popular Facebook page. As Tobin later pointed out on Twitter, she is a meteorologist with a degree in physics.
Mr Kelly told The Sydney Morning Herald and The Age he was sorry for his description of Tobin but had not contacted her to apologise directly because he did not have her contact details.
"I apologise to her. There was a bit of quid pro quo to it, it was at the end of a rather combative interview," he said.
Read the full story here.
The impact of the East Gippsland fires on the region's local wildlife is starting to become apparent. Just outside Mallacoota at Tip Beach local birds are washing up on the sand, half-buried in burnt leaves.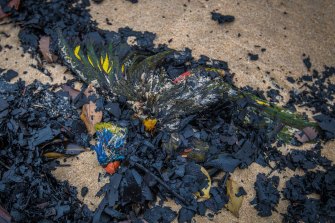 Award-winning Age photographer Justin McManus, who has been capturing the fire's devastation in Mallacoota for the past week, took these photographs and has described the scene below.
"Among the ash, hard to see at first, is the familiar bright plumage of some of our most iconic birds. The vivid blues, yellows, reds and greens of Rainbow Lorikeets, of Crimson Rosellas, of Yellow Tailed Black Cockatoos, Whipbirds, Honeyeaters and Robins," he wrote.
"We walk carefully not wanting to step on the carcasses of dead birds. The closer we look, the more we begin to comprehend the extent of the carnage. It is overwhelming and deeply sad."
"The ash entombing this avian graveyard stretches out along the beach as far as the eye can see."
NAB has increased its bushfire assistance to $5 million, after pledging $1 million last week.
Of the amount, $4 million will be used to provide $2000 emergency relief grants to families and business owners affected by the fires and $1 million will be donated to the Australian Red Cross and other local organisations.
"People have tragically lost loved ones, homes, pets, livestock and livelihoods," said NAB CEO Ross McEwan.
"We want to help those affected start to rebuild, with some immediate assistance to help our customers and colleagues deal with the impact – as well as support the long-term recovery effort."
Read NAB's full announcement.
A reminder to those following the live blog to refrain from personal attacks directed at other commenters.
Please, if you would like to have your say, limit your commentary to the relevant issues.
We understand the bushfire situation elicits a strong reaction, and we appreciate your continued interest in our live coverage.
Calls to Ambulance Victoria related to breathing problems were up by one-third on Sunday, when air quality in Melbourne was unaffected by smoke.
This is despite the fact that air quality had improved to "good" in the Melbourne CBD by the afternoon.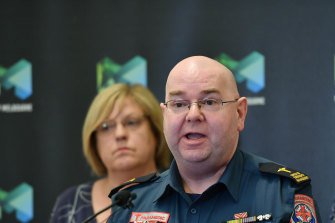 Acting director of emergency management Justin Dunlop said people were still having respiratory problems "even though the air appears a little clearer".
"The longer you're exposed to smoke, the more likely you are to have breathing problems," he said.
"So the key message is to get out of the smoke. If it is smokey outside, go inside. Turn your air conditioning onto recycle so that you get fresh air, and wear a P2 mask if you have to go outside when it is smokey."
On Monday, 50 per cent more people required medical help for breathing problems than they did on Sunday.