That's all for today's live coverage of Victoria's bushfires on Wednesday, January 8.
Our live blog will be back tomorrow morning. 
Three people have been confirmed dead, the third named today as 43-year-old firefighter Mat Kavanagh.
There are 21 fires burning and more than 1.2 million hectares have been burnt, with warnings conditions are set to deteriorate on Friday.
Some lovely photos taken by photographer Chris Hopkins today after firefighters from the US and Canada touched down in Melbourne. Emergency Management Commissioner Andrew Crisp and Environment Minister Lily D'Ambrosio were there to greet them.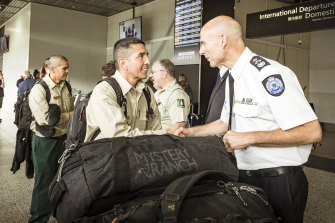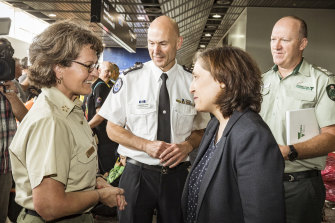 Rock band Metallica has pledged $750,000 to go towards the CFA and NSW's RFS. 
"We are totally overwhelmed by the news of the wildfires sweeping through millions of acres across Australia, with major impact in New South Wales and Victoria," the band wrote on Twitter.
"The resulting destruction and devastating effects on all residents, animals, the environment and the incredible land in Australia is truly heartbreaking."
Meanwhile, singer Lizzo has been helping out at Foodbank Victoria's warehouse today.
Forest Fire Management chief fire officer Chris Hardman says firefighter Mat Kavanagh, the third person confirmed to have died in the Victorian bushfires, will be greatly missed.
"He has been with us for 10 years. He was a Melbourne boy and had a great love of the great outdoors and a keen fisherman," Mr Hardman says.
"He started as a project firefighter, one of our summer fire crew, and decided to go live in north-east Victoria.
"He's such a well-loved guy… It's a devastating loss for everybody in the sector but for those people who knew Mat it's going to take along time."
Mr Hardman says Mr Kavanagh worked in many roles at Forest Fire Management including as a firefighter, a roads management officer and most recently in fire prevention. 
Emergency Services Minister Lisa Neville says confirming Mr Kavangh's death as part of the official fire toll took some time as some investigation from Victoria Police was required.
The number of homes destroyed has risen. Ms Neville about 300 have now been confirmed as lost, up from 204 yesterday. 
She also says every person who has registered as wanting to leave Mallacoota have, as of today, been rescued from the town. This was done by air and using navy vessel HMAS Choules. 
Ms Neville has slammed the decision from climate activists to stage a protest in Melbourne on Friday when fire conditions are expected to worsen.
"Right now when we've got communities at risk … I don't want to see police having to pull people out of [fire-affected] communties to come in and manage a protest," she says.
"I am stunned and would ask them (the protesters) to reconsider. 
"There is a time for protest. It's not this Friday."
Mr Crisp says there are 1000 defence personnel on the ground in Victoria at the moment assisting where needed, including with the Mallacoota evacuation or assisting farmers with digging holes to bury dead livestock.
Emergency Management Commissioner Andrew Crisp says there are 21 going fires at the moment and the situation continues to be "dynamic and dangerous". 
"We still have a long way to go," he says.
He warns people must leave Victoria's north-east and East Gippsland where bushfires continue to threaten. 
"Those parts of the state are tinder dry and are ready to go again," he says.
The fire danger will be severe in the Mallee, extreme in the North Country, severe in the North East and very high in East Gippsland.
Emergency Services Minster Lisa Neville is addressing the media at the State Control Centre and urges people to get out of fire-affected areas.
"The strong advice remains: if you are in fire-affected areas, leave and leave early on Thursday," she says.
"There are still some challenges ahead."
Thankfully, higher humidity is expected this weekend than the conditions that prevailed before last Sunday's fires. "It helps", Ms Neville says.
Emergency Services Minister Lisa Neville has announced Forest Fires Management Firefighter Mat Kavanagh died when his vehicle crashed on the Goulburn Valley Highway on Friday. He was 43.
Victoria's official bushfire death toll now stands at three.