That concludes our live coverage of the bushfire crisis for 9 January, 2020.
We will be watching events overnight and bring you news as soon as we have it. 
We will also be back with live coverage again on Friday.
Thank you for reading today. 
A second Evacuate Now warning has been issued because of the Abbeyard fire in northern Victoria.
The notice reads:
"It is strongly recommended that you Evacuate Now if you are located in Buffalo River, Dandongadale, Merriang South, Mount Buffalo, Nug Nug.
In anticipation of fire activity tonight and into Friday, we are now evacuating from Buffalo River Valley to Back Creek Road.
If you are located in Buffalo River Valley to Back Creek Road it is strongly recommended that you evacuate now and move to a safer location away from the fire.
Clifton Creek residents have been warned that fires burning to the north of the town may threaten their homes tomorrow.
The small town suffered significant property loss early last week, including the loss of its local primary school.
Speaking at a community meeting at the Clifton Creek community hall on Thursday night, Bairnsdale Incident Controller Brett Mitchell outlined the potential danger.
"Tomorrow is going to be a bad day. You've all seen the forecast," he said."The rain has done nothing to put this fire out. I've been fighting fire in Gippsland and I've never seen any fire activity like this."
Firefighters from the United States spent the day fighting the most intense sections of the fire edge. Residents were assured that heavy aircraft would be deployed in the southern area of East Gippsland if fires flared up on Friday.
Some 160,000 more smoke masks are on their way to Australia, thanks to California-based medical aid charity Direct Relief.
Spokesman Paul Sherer said 100,000 N95 (P2 equivalent) masks – the minimum recommended standard to effectively filter smoke – have already been flown from Los Angeles to Melbourne by Qantas, with a further 60,000 awaiting collection in LA bound for Sydney.
That includes 29,000 masks for children.
Direct Relief donated more than 522,000 masks in California during the state's wildfires last year, from what the charity says is the largest private reserve in the United States.
That's not the only US good news story today – San Diego Zoo is supporting koala assistance efforts in the Blue Mountains.
You can read that story here. 
The emergency warning issued for a fire near Abbeyard, 40 kilometres south-east of Wangaratta, has been upgraded to "evacuate now".
The fire has escaped on the western flank and cannot be contained. Expected strong north westerly winds will then push the fire in a south easterly direction.
If you are located in Bennies, Rose River, Upper Rose River, Markous, Top Crossing, Cheshunt South and Wabonga Plateau it is strongly recommended that you evacuate now and move to a safer location away from the fire.
Residents in these areas need to leave via the Wangaratta-Whitfield Rd to Wangaratta.
There are seven watch and act warnings currently in place.
You can check the latest from VicEmergency here.
Economists at investment bank UBS have written a note for clients flagging concerns of a widespread economic hit from the fires in the south-east.
The economists, led by George Tharenou, say in a note released on Thursday that agriculture, tourism, retail and construction will likely wear the impact.
"Firstly, it is still too early to say with any certainty what the economic impact of the ongoing catastrophic bushfires could be, given many fires continue to burn, and the bushfire 'danger period' continues to 31 March.
"Further, while the direct impact of bushfires has largely been outside of capital cities and limited to rural/regional areas, the indirect impact of smoke haze and on overall consumer confidence has been felt in the largest cities (Sydney and Melbourne).
"This means the total economic impact of the bushfire crisis will be very difficult to measure, given much of it will be indirect – lost work days in construction and lower retail spending due to smoke haze, lower tourism
spending etc.
"We think the sectors likely to be most impacted will be agriculture (~2 per cent of GDP), tourism (~3 per cent of GDP), retail (~4 per cent of GDP), and construction (~7 per cent of GDP)."
The economists estimate a 10 per cent reduction in tourism for impacted regions that could be worth about $1.3 billion.
"Estimates & prior disasters suggest costs could be as large as 0.2 per cent of GDP. Some industry estimates suggest the economic cost could be similar to that of the 2009 Black Saturday fires which were estimated to be $4.4bn, or 0.2 per cent of annual GDP.
"However direct comparisons between the two disasters is challenging given the different sizes (450,000 hectares ha, vs 8.4 million hectares so far), locations, and durations.
"Overall we think this makes a rate cut from the Reserve Bank of Australia in February more likely."
Some ecosystems across Australia's eastern seaboard will never recover from the damage wrought by this season's bushfires and several animal and plant species are now feared critically endangered or extinct.
Parks Victoria chief conservation scientist Mark Norman said the glossy black cockatoo was one species that could now face extinction.
"When you map their distribution up the east coast, from healthy populations in southern Australia to Queensland, almost every pocket of forest that they live in has been burnt," he said.
Victorian authorities are telling people in this area to leave today. 
I'll be heading off now, thanks for reading today. My colleagues will keep the blog ticking along though throughout the evening, so don't stop checking back for updates. 
Stay safe out there everybody. 
The fire-ravaged town of Mallacoota has become even more isolated after a growing sandbar stopped the Navy's landing craft reaching the shore.
Major General Jake Ellwood, who is coordinating the Australian Defence Force's bushfire recovery efforts, said he had urged his team to clear the sand as rapidly as possible.
"I've been told [clearing it will take] between three and five days, though I did say to the team that are doing it, the quicker the better," Major General Ellwood told reporters in Canberra. "Until that's gone we can't [land our craft]."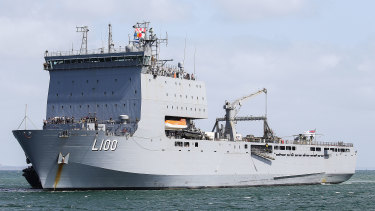 Major General Ellwood, who visited Mallacoota earlier on Thursday, said he was impressed by the town's resilience and community.
More than 1000 people have been evacuated from Mallacoota by HMAS Choules, which dropped a final group of evacuees off near Melbourne last night, but some have chosen to remain in the East Gippsland town.
The Australian Defence Force is resupplying those that have stayed with fuel and has provided a logistics planner to ensure locals do not run short on essential supplies despite the town's isolation, Major General Ellwood said.
"The Choules is loading again necessary stores to take back to Mallacoota," Major Ellwood said.
Supplies to the town are being delivered by air while emergency services personnel work to clear road access.