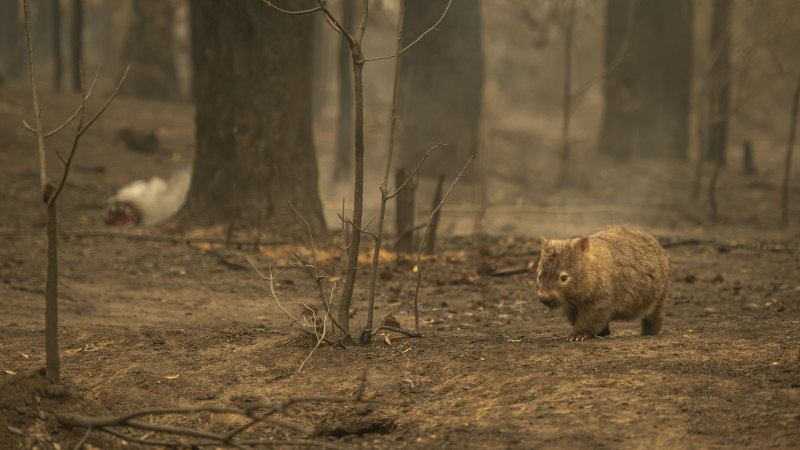 Loading
"It's an absolute calamity – we have no idea what's going to happen," the official said, adding "I'm very impressed with Victoria".
A Victorian government spokeswoman stressed "the full extent of [the state's bushfire impact] is still being determined", and discussions between state and federal governments were ongoing.
The Victorian draft identifies the reserves hardest hit by fires – such as 70 per cent of the state's warm temperate rainforests – and the habitats and species most likely threatened.
The latter include the giant burrowing frog, with about two-thirds of its habitat in the burnt area. The greater glider and southern brown bandicoot both may have lost a quarter of their range so far.
The draft also identifies some of the immediate responses available and those that will need as long as three years to take effect.
By contrast, a survey of recent communications with NSW environmental staff, such as one from Jim Betts, the department secretary, barely mentioned biodiversity. A second, by Sharon Molloy, the acting executive of the biodiversity, sought suggestions from staff about the best ways to respond.
A spokesman for the NSW National Parks and Wildlife Service said "an emergency recovery plan to protect and restore wildlife populations is being developed".
"The immediate priority remains the suppression and control of existing fires to protect life, property and remaining habitat in our national parks and across the state," he said.
The plans for support include the provision of food, water and shelter as well as pest and weed control, with the government so far providing $1 million in emergency funding to support wildlife rehabilitation, the spokesman said.
NSW Labor leader Jodi McKay said states like Victoria were prioritising protection of wildlife.
Loading
"They are assessing the damage done to critical habitat, change in water quality, loss of food source and risks to endangered species," she said.
"NSW isn't. At a bare minimum [Premier] Gladys Berejiklian shouldn't be letting NSW fall behind Victoria. An urgent response is needed to the catastrophic fires sweeping our state," she said.
Chris Dickman, from the University of Sydney, estimates more than 800 million animals in NSW have died in the bushfires, with the national impact exceeding 1 billion.
Professor Dickman based his estimates on the density of wildlife calculated during an assessment of land clearing conducted for the World Wide Fund for Nature in 2007.
Loading
The figure, though, is likely to be an underestimate as it includes mammals – but excludes bats – birds and reptiles and does not calculate losses of frogs, insects or other invertebrates.
The government estimates NSW has about 1000 animal and plant species at risk of extinction in the state prior to the bushfires.
Peter Hannam writes on environment issues for The Sydney Morning Herald and The Age.
Most Viewed in Environment
Loading