Among the activists was former Brisbaneite Kathryn McCarthy, who attended the rally with her parents, Margaret and Michael Torpy, and her daughters Zara, 7, and Juliet, 4.
Mrs McCarthy was staying with her parents at Coorparoo while her husband remained home in Broulee, near Batemans Bay on the NSW south coast, an area devastated by fire in recent weeks.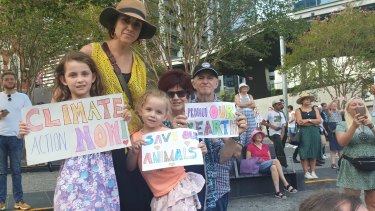 "We need strong climate action immediately," she said.
"Australia is on the frontline of impact and our community around Batemans Bay has been destroyed by bushfires, which are fuelled by climate change.
"Our home is OK and our family is safe but we know others have lost their homes.
"My husband is helping the community now while we are waiting it out here in Queensland. We're returning over the weekend."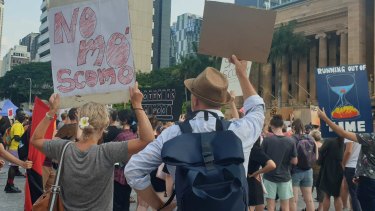 The crowd moved out of King George Square shortly after 6pm to march through the CBD.
The Brisbane protest was part of a series of co-ordinated nationwide protests.
In Sydney, more than 20,000 people marched from Town Hall to NSW Parliament House chanting "Hey hey, ho ho, ScoMo has got to go" as speakers climbed Town Hall's side steps, and later moved on to "The liar from the shire, the country is on fire".
Izzy Raj-Seppings, 13, waited to address the crowd.
She was given a move-on order by police while protesting outside Kirribilli House in September. Her hope is that Friday's protest will create change.
"[I hope] it attracts a lot of attention and gets our Prime Minister to move and start thinking about change from fossil fuels to renewables," she said.
Melbourne's protest came despite condemnation and frustration from authorities about its timing.
Under heavy winds and pounding rain, students, professionals and parents with children vented their anger at Mr Morrison, holding placards with messages such as "Time is Running Out", "Declare a Climate Emergency" and "You have blood on your hands, Morrison."
Victorian Premier Daniel Andrews expressed his frustration that the protest was going ahead, particularly when the people battling bushfires around the state were "exhausted".
"Climate change is real – but now is not the time," he said.
But rally organisers Uni Students for Climate Justice defended their decision, seizing on comments from police on Friday morning that no police members would be pulled back from the bushfires to police the protest.
"For the past week I've been heavied by the Victorian government, the media and the police to cancel this important protest in response to the bushfire crisis on the basis of lies," said Victorian convenor of Uni Students for Climate Justice Anneke Demaneule.
With Matt Bungard, Janek Drevikovsky, Farrah Tomazin and Bianca Hall
Jocelyn Garcia is a journalist at the Brisbane Times, covering breaking news.
Cameron Atfield is PM editor at the Brisbane Times