RFS Commissioner Shane Fitzsimmons said that "In essence we know it will be a long, difficult day and night. We expect the wind shifts to occur later tonight, but also in the early hours [of Saturday morning] across these regions.
"We won't know the extent of the impact until early the next morning."
Thanks for reading today, if you are near any fire areas please stay safe. 
It's hard to do justice to the scale of devastation amid this summer's national bushfire crisis.
Twenty-eight people have died, about 6000 buildings have been destroyed, more than 10 million hectares of land has been burnt and conservative estimates suggest more than a billion animals have perished. The Bureau of meteorology said 2019 was the hottest and driest year ever recorded.
This week on Please Explain, Tory Maguire speaks with the Herald's environment editor Peter Hannam, in part three of our summer series on climate change and weather, about his experience in Moruya and Batemans Bay last week when he witnessed first-hand the anxiety and challenges of one of the biggest evacuation efforts Australia has ever seen.
The Snowy Mountains foreshore areas of Anglers Reach and Providence Portal, usually bustling with tourists, were on Friday deserted as the region braced for "severe" fire danger and temperatures in the mid-30s.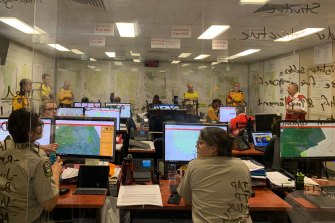 Kangaroos bounced across plains in front of the empty Anglers Reach caravan park while just a handful of residents in nearby bush-fronting properties remained.
Andrew Constance has seen bushfires before, but nothing like this. The memory will stay with him forever. "This was like an atomic bomb."
Until last week, Mr Constance was best known as the NSW Transport Minister. But as one of many South Coast residents whose community has gone up in flames, he has become an emotional advocate for victims of the disaster.
The three fires which have merged are now all at emergency level.
The East Ournie Creek fire and Dunns Road fire were both upgraded, joining the Green Valley fire as the state's three emergency level blazes.
The East Ournie Creek fire is now merged with the Green Valley fire at one point, and the Dunns Road fire at another, forming a huge fire more than 600,000 hectares in size.
Confused and angry locals doing it tough in bushfire-ravaged NSW towns have been denied government relief payments due to outdated maps and technicalities.
Upset residents told The Sydney Morning Herald, The Age and Nine News they applied for the $1000 tax-free disaster recovery payment, only for Centrelink to knock it back because their "guide maps" showing the fire zone were out of date.
Two fires straddling the NSW and Victorian border have merged, creating a 600,000-hectare "mega-fire" south of the Snowy Mountains amid dangerous and erratic conditions.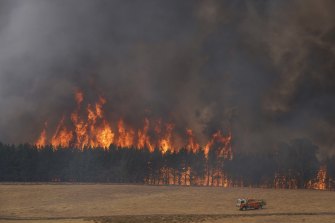 As dry heat, shifting winds and powerful gusts fanned more than 100 blazes devouring drought-parched bushland throughout southern NSW, the East Ournie Creek and the Dunns Road fire zones came together north of Mount Kosciuszko on Friday evening, near the village of Tooma.
Meanwhile, the Green Valley fire, which East Ournie Creek had already merged with, was upgraded to emergency level just after 7.30pm.
Smoke from Australia's bushfires has billowed into the lower stratosphere, reaching 17.7 km above sea level, the US space agency NASA says.
NASA satellites also show smoke has travelled more than 6500 km away from Australia, some of it reaching Chile.
"We anticipate that the plume will continue its movement over the next days, and the [satellite] team will continue to monitor its progression," NASA's Chip Trepte said.
The space agency has also labelled as "rare" the fire-generated storms, or pyrocumulonimbus events, which have been exacerbating fire activity this week.
According to NASA, there have been 20 firestorms this week alone.
"By our measures, this is the most extreme pyrocumulonimbus storm outbreak in Australian," Mike Fromm of NASA's Naval Research Laboratory said.
The Kwinana Freeway southbound has been shut and residents have been warned they are in danger after a bushfire flared up south of Perth on Friday.
A bushfire emergency warning has been issued for people on or near the Kwinana Freeway and in an area bounded by Wentworth Parade to the west, Armadale Road to the north, Tapper Road to the east and Bartram Road to the south, on both sides of the Kwinana Freeway in parts of Atwell and Success in the City of Cockburn.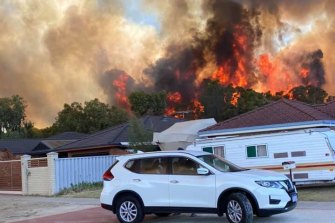 "You are in danger and need to act immediately to survive. There is a threat to lives and homes," the alert said.
Vuletic Jos was among the last few people to make it down Kwinana Freeway before authorities closed it off.
He has described the moment he witnessed a "flaming tornado" crossing over the freeway and train line before starting a small scrub fire behind the Cockburn Gateway shopping centre, close to apartment blocks.
Three firefighters were taken to hospital while fighting the 29000-hectare fire near Shannons Flat.  Two have minor burns, one was treated for exhaustion.
They were treated by ambulance officers at the scene.
"It just shows how hard these people have been working and the conditions they have been working under," NSW RFS Monaro District inspector Langdon Gould said.