That's all from us today, January 10, 2020.
We'll be back in the morning with tomorrow's blog. 
Remember you can also access the latest emergency warnings at http://emergency.vic.gov.au/respond/
Please stay safe, and thank you for joining us. 
There's a minimum of nine emergency service vehicles attending the grass fire near Wodonga, a State Control Centre spokeswoman just told Michael Fowler.
The latest available information indicates police, firefighters and local defence force members are fighting the blaze, which is so far under control.
It's unclear whether the fire is threatening properties. An emergency warning, instructing those nearby to take shelter indoors immediately because it is too late to leave, is still in place.
The Cube in Wodonga, an auditorium and arts space, has been opened as a community relief centre.
There are now reports of spot fires in Wodonga itself as the large grassfire on the city's outskirts continues to burn. The main fire is burning east, so not toward Wodonga proper. We're just seeking more information from  Emergency Management Victoria now.
Strange scenes in Wodonga where a grassfire is menacing the outskirts. People who live there have just received SMS alerts warning them they could be in danger.
By 8.30 on Thursday night, fears that were held for the southern parts of East Gippsland had not materialised, reports Paul Sakkal from Bairnsdale.
Andrew Stewart – one of the lead firefighters managing the operation in the region – said the greatest danger overnight would be posed by new starts sparked by lightning, rather than existing blazes threatening towns.
An emergency warning was issued for Buchan South for much of the afternoon, but was downgraded in the early evening. For the second time in a week, residents in the town were told to flee their homes to a relief centre in Bairnsdale.
Towns including Sarsfield, Clifton Creek and Nowa Nowa, evacuated yesterday, were not impacted by fire.
Heavy rain was falling over the region by 8.30pm, while strong southerly gusts blew through the area after 6pm.
Mr Stewart said fire crews in the area spent much of the day doing pre-emptive asset protection. A heavy presence was in place at Orbost, but the Buchan South blaze did not encroach near the town despite the strong northerly breeze.
Mr Stewart said crews in the region were not being complacent, as erratic winds and potential thunder would persist until about midnight."Especially with this weather, that is the danger tonight [new starts]," he said.
Things are getting worse in Wodonga, where a grass fire has broken out south of the town and is burning towards homes. The emergency warning down there has been expanded.
Conditions look awful out there: hot, smoky, and very very windy.
"It's running in an easterly direction under very strong winds," state response controller Gary Cooke told ABC Gippsland.
"We have got ground crews and air craft responding to that fire. But it is quite dangerous at the moment under very strong winds."
Good news: the situation in Combienbar and Buchan has eased. Emergency warnings in both places have been downgraded to watch and acts. They had been menaced by fires for several hours today.
The Maragle Road fire, an offshoot of one of the massive blazes that is tearing through Victoria and NSW high country is well and truly in the pine plantations outside Tumbarumba.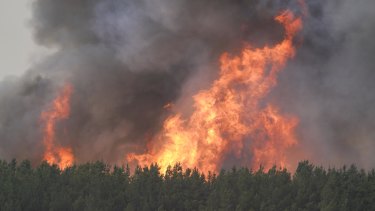 Photographer Eddie Jim captured flames 30 metres high bursting out of the pine forest.
West Tumbarumba Rural Fire Service captain Ian Pratt says this is a huge concern for the town, reports Michael Bachelard.
The plantations feed Hyne Timber, which in Tumbarumba provides about 80 per cent of the jobs.
The situation in Corryong appears to be worsening as expected due to that wind change. There's now an emergency warning for the area, as the change pushes a fire north toward the town.
Here's the warning, issued today at 7:06pm:
This Emergency Warning is being issued for Biggara, Bringenbrong, Corryong, Cudgewa, Guys Forest, Pine Mountain, Thowgla, Thowgla Valley, Tintaldra, Towong, Towong Upper, Walwa, Greg Greg, Khancoban, Thowgla Upper.
There is a bushfire at WNW of Walwa that is out of control.
A wind change is expected at approximately 7.30 pm, which will cause the fire to move towards a North Easterly direction towards the Murray River between the areas of Walwa and Biggara.
Conditions can become very dangerous and unpredictable.
This fire may threaten homes and lives.
You are in danger and need to act immediately to survive.
The safest option is to take shelter indoors immediately. It is too late to leave.
Good news: the Bureau of Meteorology has just cancelled the severe thunderstorm warning for Victoria.
The Bureau was predicting damaging, locally destructive winds in areas including Falls Creek, Mt Hotham and Omeo, Michael Fowler reports.
"The immediate threat of severe thunderstorms has passed, but the situation will continue to be monitored and further warnings will be issued if necessary," it said in an update.
Strong winds and some rain are still expected, with the cold front currently moving over those areas, but this is a positive development.