One insider who requested anonymity said Ms Levy interrupted her leave on Friday to collect belongings after being told of her forced exit.
Disruption at the top of the state's environment agencies comes at an awkward time for the government.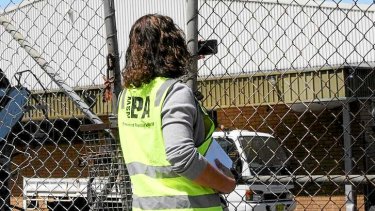 Huge fires have burnt as much as 5.2 million hectares in NSW, potentially destroying key habitats and pushing more plants and fauna closer to extinction. Already 1000 such species are on the endangered list.
As the Herald reported on Saturday, NSW agencies are lagging Victoria where the Andrews government has already circulated a response plan to deal with devastating fires that have scorched 1.25 million hectares in that state and continue to burn.
Ms Levy had a chequered history in the environment department, including her decision to "stand down" in November 2018 from her role as the EPA's chief executive after just eight months in the role, Guardian Australia reported at the time.
Loading
After that exit, Ms Levy went to work at Infrastructure NSW, the state's main body developing major projects, where Jim Betts was the chief executive.
Mr Betts was appointed the Secretary of the Department of Planning, Industry and Environment in April last year, following the re-election of the Berejiklian government, and brought Ms Levy back in a role that again oversaw the EPA.
Tracey Mackey, who was appointed the new chief executive of the EPA only last October, will take on Ms Levy's role in an acting capacity, the insider said. Staff had yet to be informed of the changes as of late Friday.
The DPIE said Ms Levy was on "planned leave" until January 28 and confirmed Ms Mackey was acting in the role.
Among the unresolved work is the department's ongoing "efficiency gains" to cut staff, a task likely to be made more challenging as demand for environment support increases in the wake of the fires.
Staff have also been left unclear how the recent abolition of separate teams overseeing the coal seam gas industry and enforcement of forestry regulation will affect their roles.
Post-election, the Berejiklian government created several ministry clusters. In the instance of Planning, Industry and Environment, three Liberal ministers – headed by Planning Minister Rob Stokes – are matched by three Nationals ministers, led by Deputy Premier John Barilaro.
The combination, though, has created public clashes, such as Mr Barilaro's calls to open up national parks to logging and grazing, a stance firmly rejected by Mr Kean.
Contacted by The Sun-Herald, Ms Levy did not comment on her role ending, saying only she was "on a pre-arranged holiday as announced to my staff at the end of last year".
Peter Hannam writes on environment issues for The Sydney Morning Herald and The Age.
Most Viewed in Environment
Loading