There are more than 9000 celebrants registered by the federal government and a further 23,000 ministers of religion also authorised to solemnise marriages. With about 119,000 marriages recorded in 2018, the Attorney-General's Department (AGD) website states: "Some [celebrants] perform many marriages each year, while others only perform a few or none."
While there previously been caps on a geographical basis, there has been no restriction on celebrant numbers since 2008, when there were about 5500 Commonwealth-registered celebrants. The numbers have been as low as 3500 in 2002, and as high as 10,500 in 2014.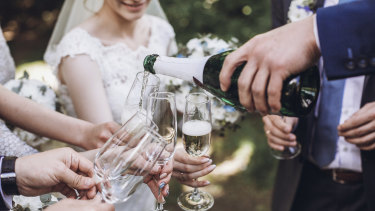 Alliance of Celebrants Queensland spokesperson Karen Rose said experienced celebrants know how to get out of the way of photographers at crucial moments, make nervous couples comfortable, use the microphone properly and manage the guests.
"You don't want someone rocking up who is going to get the names wrong, who might stumble through the ceremony, who is not performance-ready," said Ms Rose, who has been marrying people around Australia for 11 years.
Association of Civil Marriage Celebrants of Victoria secretary Dawn Dickson lamented the "oversupply" and said a national pool of about 3000 celebrants would be more appropriate.
Loading
Ms Dickson, who has been a celebrant for 40 years, used to conduct about 120 weddings a year. Now she does about 20 and her business is concentrated on funerals. There are about 400 members of her association and every day she speaks to "despondent" celebrants who are not marrying anyone.
"There's not enough work and too many people," Ms Dickson says. She is also regularly asked to coach "rusty" celebrants through the paperwork to ensure couples are legally married.
To be registered as a marriage celebrant, applicants need to have a celebrants' qualification (such as a Certificate IV), provide three referee reports, consent to a police check, make statements about their standing in the community and complete questions on marriage law and local relationship support services.
They also need to pay a $600 application fee and then an annual $240 fee to stay registered. The AGD website notes "only a very small number of applicants fail to meet [registration] requirements".
Loading
Ms Rose said the registration process should be tightened up. "There's no way in the wide world that everyone who applies should be registered," she said.
Asked if the government would consider replacing the cap or tightening up eligibility, an AGD spokeswoman said the government wanted to minimise the regulatory burden on businesses and individuals.
"Placing a cap on the number of Commonwealth-registered celebrants would be inconsistent with removing barriers to competition and the deregulation agenda," the spokeswoman said.
The department also noted many people apply to be celebrants to marry family or close friends "with no intention of establishing a business". It said it had received eight complaints about celebrants since July 2019, pointing to a drop in complaints in recent years. In 2014-2015, 40 complaints were received, while 26 complaints were received in 2018-19.
Judith Ireland is a political reporter for the Sydney Morning Herald and The Age, based at Parliament House