But the leading registered swimmer, Eustratios Manios, 20, was named the winner and later accepted a gold cross necklace from the bishop in front of the crowd of thousands.
After a religious ceremony and speeches, Bishop Ezekiel told The Age the interlopers were wrong.
''There are always people who are without order, and respect,'' he said. ''We can't do anything. But [I'd say] next time, to be careful and to obey the order, for it is very important, and makes us distinguished from the animals.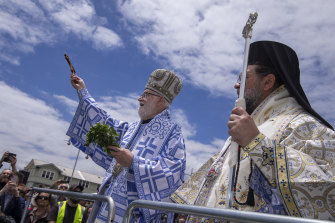 ''If we don't obey the rules and regulations, which we established, and we have, what can we say?''
''I was very upset because I've seen the [other swimmers] trying to swim the distance between the boat and here. And suddenly [Mr Legkos] came from the side.
"That was a fault. I understand, all the people understood, that something that was not right happened. So we leave this for next time.''
But Mr Legkos, an immigrant from the Greek island of Kos, said he was a legitimate winner. He dived from the pier because he didn't make it into the official group, which is limited to 25 on a first come, first served basis.
''I feel blessed but a little bit sad, because I caught the cross first,'' Mr Legkos said.
''And some people said to me to throw it again back, and that's wrong, because in Greece the person that catches the cross first, he is blessed first.''
He said an official had allowed him to jump off the pier, and he swam a longer distance than those from the boat.
The official winner, Mr Manios, was sympathetic, saying if he had been excluded from the 25 entrants, ''I would want to also jump in''.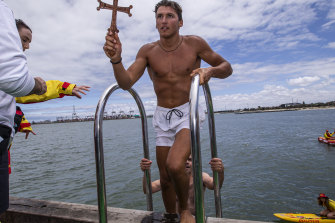 He said the organisers should let all prospective entrants on to the boat, or start from the jetty ''so everyone can have a chance to swim''. However, it was ''a great blessing for the whole year and an honour'' to win, Mr Manios said.
Another registered swimmer, Nick Zafiropoulos, 49, of Windsor, said it wasn't about winning. ''The issue is coming here, having an effort making a dive, feeling good about yourself,'' he said. ''Turn the other cheek. That's what Jesus would have wanted.''
Carolyn Webb is a reporter for The Age.