It may be days or weeks until those towns are accessible, with troops from Adelaide and Darwin and reservists, mainly from Victoria, working on the mission.
But the risk of bushfires flaring up again later in summer could delay the reopening of the highway and side roads even longer.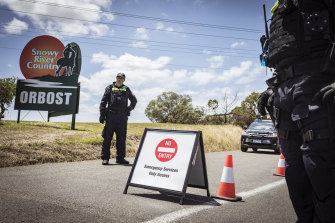 The defence force's work ramped up on Sunday while CFA crews began an extensive controlled burning campaign, burning swathes of land to protect the townships of Cape Conran and Marlo against future blazes.
Also on Sunday, Premier Daniel Andrews signalled support for the idea of troops being trained to fight fires, which he said would allow them "to do many more things on a fire ground".
Speaking from the defence force base at Orbost Secondary School, the army official controlling the operation described its scale and complexity, which he said mirrored the force's work overseas.
"It's incredible," Major Tait Pilditch told The Age. "The problem-solving that goes on and people from all agencies saying 'what is the problem-set?' … and figuring out how we get our assets together and achieve those tasks. The difference is this time, we're at home."
The defence force, working with local emergency authorities, is clearing between three to seven kilometres of the Princes Highway daily about 90 kilometres short of Mallacoota.
Major Pilditch estimates there is still about 90 kilometres of the road left to clear until Mallacoota.
He said the defence force would remain in the area "for the long haul".
Chief of the Defence Force Angus Campbell visited the Orbost base on Sunday, where he spoke to senior personnel and expressed satisfaction at how quickly the operation was set up.
Loading
The Princes Highway – which runs from Adelaide, across the Victorian coast and up to Sydney – was severely damaged by fires around the new year's period, particularly the 60-kilometre stretch between Cann River and the border town of Genoa.
Armoured vehicles – sturdy enough to withstand falling trees – are travelling slowly down the road as arborists and engineering specialists clear trees from the road and identify those that could fall.
The defence force has been moving supplies and people through dangerous terrain, as well as supporting with communication and planning between agencies.
"That means the CFA and the police don't need to be doing it, so they can focus on firefighting and police work," said Major Pilditch.
"Everyone is leaning forward … None of the agencies are hoarding their resources. Every single one of them is saying 'what can we do?'"
Paul is a reporter for The Age.