Well over 1 billion animals are estimated to have been killed in Victoria and NSW alone. Fires also have destroyed woodlands and grasslands in Queensland, Tasmania, Western Australia and South Australia.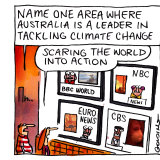 On Kangaroo Island, a haven for wildlife, thousands of koalas and kangaroos are dead, and there are concerns that the island's small, unique colonies of dunnarts and glossy black cockatoos may have been destroyed entirely or rendered incapable of surviving after food sources were burnt.
The federal government has set aside $50 million as an initial sum to assist with wildlife recovery efforts. Of that, $25 million will go to an emergency recovery fund, chaired by Threatened Species Commissioner Sally Box, who will advise on immediate efforts to retrieve species and rebuild habitats.
The balance of $25 million will go to organisations such as zoos and wildlife rescue units for immediate treatment of animals, to revegetation groups and to minimise feral predators (foxes, wild cats and dogs), pests and weeds.
All that is welcome, but the funds must start flowing immediately and more must be made available as needed. As well, efforts to aid and restore must not be hampered by bureaucracy.
Loading
Nor can there be any political intervention in the wildlife recovery efforts by the denialists and alternative-universe theorists who simply refuse to believe facts and peer-reviewed science. Their time has passed.
Scientists have warned for decades that climate change would be one of the significant emerging pressures on biodiversity. But denialists have minimised scientists' voices and, indeed, minimised science.
Professor Chris Dickman of the University of Sydney says there is "a feeling among environmental scientists and ecologists in Australia that we've been frozen out of the debate, certainly out of policymaking". He has called for scientists and ecologists to be included in all discussion about planning for the impact of climate change on the environment.
Australia has been comparatively lucky, so far, in terms of the loss of human life in these fires, after the horrors of Black Saturday. The overwhelming loss has been to heritage ecosystems, the loss to date of 8 million hectares of forests and woodlands, alpine territory and tea-tree scrub where extraordinarily diverse marsupials, birds, reptiles and insects flourished.
There can be no turning back from here. The warnings have come to pass. There will continue to be debate about controlled burn-offs: how, when, where and how much. What we need most now is experienced scientists, ecologists and Indigenous land managers to lead the charge.
Since The Age was first published in 1854, the editorial team has believed it important to express a considered view on the issues of the day for readers, always putting the public interest first. Elsewhere, we strive to cover a diversity of views without endorsing any of them.