Another influential work is The Aquariums of Pyongyang, Kang Chol-hwan's account of being a child when three generations of his family were rounded up and imprisoned. A haunting tale of privation and suffering, it's frequently cited in other works on North Korea and is notable for informing former US president George W. Bush's attitude towards the country, which he included in the "axis of evil".
North Korea 101
Your $20 starter pack
Nothing to Envy, Barbara Demick. ($19.99)
Your $54 intermediate pack
A Kim Jong-il Production, Paul Fischer ($29.99)
The Great Successor, Anna Fifield ($23.35)
Your $100 advanced pack
Escape from North Korea: The Untold Story of Asia's Underground Railroad, Melanie Kirkpatrick ($29.99)
The Impossible State, Victor Cha ($27.99)
Under the Loving Care of the Fatherly Leader, Bradley K. Martin ($39.99)
Bush also looms large over Victor Cha's The Impossible State, which delivers an insider's account of the failed six-party nuclear disarmament talks and dissects at length the ways the North Korean regime might end – ranging from bad to catastrophic. It's not for the novice – Cha was a senior member of the administration, which is both his strength and his weakness. The book comes with a heavy dollop of apologia for the Bush years, but push that aside and there's a healthy serve of research and statistics at the core. Cha says the regime could just as easily lurch on for decades as collapse tomorrow, and neither would surprise him – a conclusion as alarming as any of Donald Trump's tweets.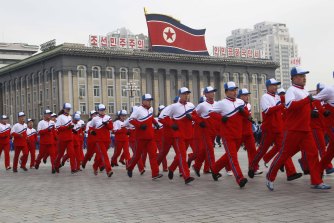 Bradley K. Martin has been visiting, watching and writing about North Korea since the 1970s, and his imposing history Under the Loving Care of the Fatherly Leader draws on all that experience. It took 25 years to complete, delving into Russian and Chinese archives along with extensive interviews and observation to explain how the cult of personality – particularly around "eternal president" Kim Il-sung – was created.
Kim Jong-il, the Dear Leader who succeeded his father and ruled from 1994 to 2011, is typically painted as an eccentric and ruthless tyrant – this is the truth, if not the whole truth. Before he became leader he was in charge of the state's criminal enterprises, including orchestrating the abductions of foreign nationals, as well as the powerful propaganda unit. These two interests aligned in 1978 with the sensational kidnapping of South Korean film director Shin Sang-ok and his actress wife Choi Eun-hee, and Paul Fischer uses this event to create non-fiction thriller A Kim Jong-il Production.
Of the books looking specifically at the second Kim, Fischer's is probably the pick. Michael Breen's Kim Jong-Il: North Korea's Dear Leader offers a fascinating character study, showing him to be more than a reclusive movie fan with a penchant for cognac, detailing how he cynically cultivated his father's cult of personality, ensured his succession with brutal force, and ran the regime's illegal activities to fund his lavish lifestyle. Fischer's manages to touch on all that, while also showing the regime from the perspective of two of its victims. The other downside of Breen's book is the 2012 edition was either printed or on its way to the presses as news of Kim Jong-il's death broke in December 2011, so it felt immediately out of date.
Loading
John Sweeney's North Korea Undercover similarly suffers from being overtaken by events; released about the same time as Michael Kirby's landmark United Nations report, it looks hollow by comparison. It was also overshadowed by the controversy surrounding how Sweeney and his BBC team smuggled themselves into the country with students from the London School of Economics. The book itself is disappointingly glib and never misses an opportunity to make a snide remark – there are as many references to George Orwell's Nineteen Eighty-Four as to Team America. He calls Kim Il-sung and Kim Jong-il zombie gods – the latter is a "bad Elvis impersonator" – the capital Pyongyang is the Big Zombie, new leader Kim Jong-un is Fat Boy Kim. There are better insights, and better jokes, to be had elsewhere.
Blaine Harden's gripping Escape from Camp 14 is also tough to recommend, although for different reasons. The Washington Post journalist's account of Shin Dong-hyuk's tale of imprisonment in and escape from the North Korean gulag was later revealed to have a series of inaccuracies – Shin himself had covered up parts of his past. This is a pity, as it undermines his activism and distracts from the nightmare of the country's prison network, but a cautionary tale for the cottage industry of escapee's survival stories.
Rather than relying on a single story, Melanie Kirkpatrick zoomed out to examine those who help refugees and defectors resettle in South Korea. Kirkpatrick's book, Escape from North Korea, came amid the crop that sprouted after Kim Jong-il's death, but focuses outside the borders and draws from interviews with more than 200 refugees, rescuers, supporters, and government sources in several countries. About 24,000 North Koreans had made it to South Korea between the 1953 armistice and the time it was published, with most in the aftermath of the 1990s famine. Perhaps 80 per cent were women, and many who don't reach Seoul make brides for lonely Chinese farmers.
Loading
Kirkpatrick takes the idea that North Korea is a slave nation a step further than others, and compares the loose network of supporters to the Underground Railway of the antebellum US. The point is laboured at times, but the various routes taken through China, Mongolia, Laos and Thailand, and the detail of the difficulties encountered make the guts of it compelling. There is nothing novel or even particularly nuanced about Kirkpatrick's take on the "murderous Pyongyang regime", and her conclusion that the underground railroad foretells a happier future for North Korea is disappointingly simplistic. Especially in a world when we hang on every tweet.
Michael Ruffles is the chief sub-editor of The Sydney Morning Herald.