"I think the risk here is we end up with a flood of drinking venues but there's an entertainment drought," Mr Graham said.
"There are plenty more venues to drink, but Sydney doesn't get back its reputation as a fun city for tourists to visit, or for locals to enjoy a night out."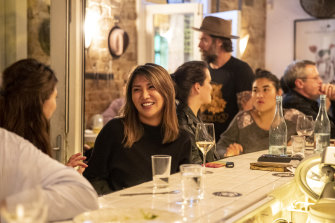 Mr Graham said the government should implement further changes to licensing restrictions for small bars, including "lightening up" security requirements and extending trading hours for those venues, which were recommended by a cross-parliamentary committee.
In another move aimed at making it easier for operators of bars and live music spots, Mr Graham said the government should launch a "12-month blitz to fast-track opening new venues".
"We have lost hundreds of venues," he said. "The government should urgently combine planning and liquor licence approvals which would cut the time to open a venue by a couple of months."
Loading
The Labor opposition is drafting a bill which has in-principle support from the Berejiklian government and would make it impossible for liquor licences to prevent venues hosting live music.
"These are the archaic, historical licence conditions that tell some venues they can only play jazz or country and western, or ban music or mirror balls," Mr Graham said.
He said live music venues – which were previously allowed to trade until 3.30am – should be allowed to trade until 4am, saying the move would "create jobs and keep music going for the city".
Committee for Sydney chief executive Gabriel Metcalf said that while relaxing the lockout laws was "symbolic and important", the sector faced "a long road to revive Sydney's nightlife".
Mr Metcalf acknowledged the state government was "currently beavering away on a wide-ranging plan to make Sydney late again". He said the sector would benefit from a minister for the night-time economy, fewer regulations for licensed venues and extended hours for retail and public transport.
Tourism Minister Stuart Ayres has acknowledged the removal of the lockout laws in the CBD was a first step. He expects ride-sharing services such as Uber will help disperse night-time crowds.
"At this time there aren't any planned changes to times [for public transport]," he said. "If we need to make adjustments, we'll do so. Across the CBD, we want to make sure we're getting this right."
Night Time Industries Association lobby group chair Michael Rodrigues said there was widespread ambition among industry players and venue operators "to move Sydney's night-life beyond alcohol".
Loading
"What other great cities of the world have is a 'going out' ecosystem that enjoys multi-faceted entertainment, without it being singularly focused around drinking. Punters want choice.
"Licensed venues need to work out how they collaborate with the wider entertainment sector to provide a compelling reason for residents to come out."
The government will review the relaxation of the laws in 12 months.
Megan Gorrey is the Urban Affairs reporter at The Sydney Morning Herald.