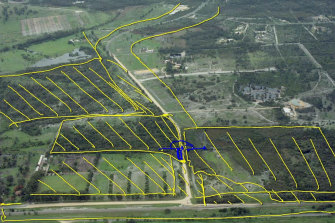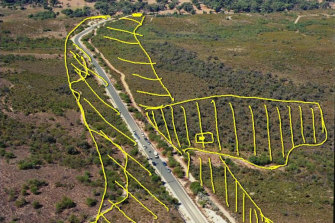 Court has wrapped up for the day. 
Justice Stephen Hall has agreed to release the maps drawn on by Mr Kays that indicate the areas his TRG team searched in the days and weeks after the discoveries of Jane and Ciara's bodies. 
The images will be posted to this blog when they are made available.
Court will resume at 10am tomorrow with a new witness, then-Senior Constable Hyde, a member of the forensic team who examined Ciara's body in situ.  
Ms Barbagallo, during her reexamination of Ms Young has asked what car she drove at the time of the murders. 
She has replied the homicide squad drove either Ford or Holden sedans. 
The state alleges fibres found on Jane and Ciara's body were from a Holden Commodore station wagon. 
Ms Young has completed giving her evidence. 
Ms Cleary is now showing Ms Young a photo of her taken on the day Jane's body was found where she is pointing into the bushland. 
It shows her wearing a navy suit and black high heels with her hair tied back into a ponytail.
The state alleges a single blue polyester fibre found in Jane's hair is from the custom-made Telstra-issued navy trousers Mr Edwards wore for work at the time.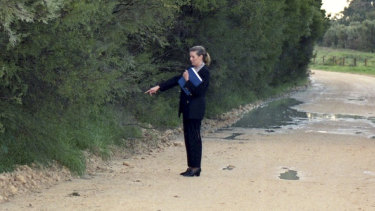 Ms Cleary is now cross-examining Ms Young and asking her whether she entered the bushland alcove where Jane's body was found. 
Ms Cleary: It wasn't possible to see the body from the road was it?
Ms Young: Yes. 
Ms Cleary: Can I suggest you had to take at least one step, maybe two into the bush to see the body?
Ms Young: I can categorically tell you as a member of the homicide squad, I not only knew better but I would never enter a crime scene, ever.
Sensitive footage of Jane's crime scene is now being shown where the body cannot be seen from the road, or a couple of steps into the bush. 
"The footage appears very dark in there. My recollection is being able to crouch down and peer through those bushes and seeing what was a human form," Ms Young said. 
Mr Young attended the mortuary again later that day for a further examination of Jane's body. She also attended another examination two days later on August 6. 
She said she attended the examinations for continuity purposes. 
The examinations were not filmed, and Ms Young cannot recall what she was wearing during them, but said she would have likely been wearing scrubs or a white surgical coat over her business attire. 
She said she wouldn't have been wearing a hair net or gloves. 
Ms Young is now recalling a piece of Jane's hair given to her by Dr Margolius. 
"In the theatre there was a stage where Dr Margolius took a clump of Jane's hair, she washed it in the trough and then that was given to me at the end of the post-mortem," she said. 
"That piece of hair was provided to me. I took that piece of hair home and I shampooed it and washed it, I then brushed it, put a lacky band around it and placed it in a gift box to give to the family so they had a memory of Jane.
"It was purely provided to me out of an act of kindness and compassion to the family."
Fibres found in Jane's hair make up the only forensic evidence ithe state alleges links Mr Edwards to the crime. 
Ms Young is now recalling the post-mortem conducted on Jane's body the following morning. 
"My role was to be present throughout the post-mortem to record information provided to us so it could be relayed to the inquiry team and continue with the continuity of being present with Jane," she said. 
"On that day within the actual mortuary theatre I was wearing a brand new set of hospital scrubs and wellington boots provided by Dr Margolius.
"There was no need for me to wear gloves because I had no contact with the body."
Ms Young said she wore the clothing to prevent contamination, and to prevent her own clothes from being contaminated with the odour so she could return to work later in her own clothes. 
During the post-mortem, Ms Young said the first step was for Dr Margolius to remove Jane's jewellery and place it in a tub. 
She said Jane was wearing a ring on each hand, a naval ring, earrings and a necklace. 
"The neck chain, Jane had a significant neck injury and the chain was still present but had fallen to the back and was behind her hair," she said. 
She said her earrings were located in her hair and behind her arm. 
Ms Young is now recalling the injuries noted to Jane's body during the post-mortem. 
"There were injuries to the throat, there was injuries to the end of digits," Ms Young recalled. 
"There was a significant wound to the neck."
A sketch showing a female body and notations of jewellery and injuries is being shown in court. 
The document says "no broken bones" and marks the neck as "missing". 
Some fingers and toes are also marked as missing or hanging.
An indentation was noted to the right wrist.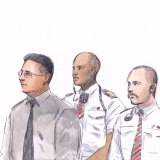 During the past two days of the trial, accused man Mr Edwards has at times taken his glasses off while sensitive images and footage are being shown. 
He has taken his glasses off as the photos of Jane's body in the mortuary are being shown for the first time. 
He is resting his cheek on his hand and writing notes. 
After Jane's body was removed from the Wellard scene, it was taken to the state mortuary, where Ms Young also attended that night. 
"We had two families on hold that night waiting to know whether it was their daughter we'd found so the primary duty that night was to try and do identification," she said. 
"Dr Stephen Knott was present at the mortuary that evening … and he made attempts to contact Jane's dentist and they were unsuccessful. 
"Arrangements had been made for Sarah's dental records which I believe were held by the inquiry team to be delivered to the mortuary that evening.
"Dr Knott was able to examine with the records that were Sarah's and was able to tell us that evening that it was definitely not Sarah."
Sarah's body has never been found. 
Ms Young is now recalling Jane's body was x-rayed for Dr Knott to review the dental structure. 
She said he also partially unzipped the body bag and examined Jane's facial area for a short time. 
She is now being shown photos she took of the body being examined.