As revealed on Friday, residents near fire-ravaged Mogo had been denied disaster recovery payments because Centrelink told them not enough of the home had been damaged or the fire hadn't burned there.
Melinda Evans' sheds and fences were destroyed, and ash inside her home was affecting the health of her seven-month-old son, Michael.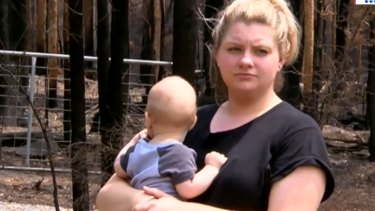 "His breathing's terrible, he's stuffy, he's got a cough. There's nothing else we can do about it, there's nowhere else we can go," she said last week.
Ms Evans was denied the payment.
Loading
Amanda Canciani lost farm machinery, sheds, water pumps, her husband's work tools and children's play equipment. She, too, was refused the $1000.
"It's something that hurts, not just for us but everyone around us who's being told the same thing at the moment," she said.
Both women were granted the payments after their cases were highlighted.
The Prime Minister has made the speedy change to avoid any further embarrassment over Centrelink mistakes.
"We are making changes to ensure that those who have been genuinely impacted get the help they need. In a majority of cases these payments are working, but where we need to make changes we are and will," he said.
So far 33,000 payments totalling $40 million have been made. The changes apply to the recent bushfires but also to any future disaster.
The government is also promising a tough audit after the bushfire crisis to try to avoid instances of fraud.