She said the council-owned riverwalk was regularly monitored and maintained, and was in good condition.
"When council identified maintenance issues with this section of riverwalk, we raised the issues with the body corporate and the state government advising them of the findings and that it was not council's responsibility to rectify any issues on this state-owned land," the spokeswoman said.
"Council understands River Place Apartments has received their own engineering advice and has emptied the planter boxes.
"Council is committed to working with River Place Apartments to ensure any necessary works can be undertaken."
Comment was sought from River Place Apartments.
Another section of the report, produced by engineering consultants SMEC and obtained by Brisbane Times, warned the concrete planks had "critical levels" of chloride concentrations and steel strands within the structure were corroding.
"Once the strands corrode through, the reduced plank capacity will not be obvious to those above and the failure of a plank will occur via concrete cracking and the plank shattering," the report said.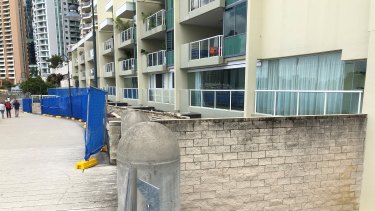 "As the failure may occur without warning and occur catastrophically, the risk management strategy should take this into account."
An on-site investigation conducted by SMEC in July found some of the concrete planks underneath the planter boxes, exposed to the river, had issues including "cracking, corrosion, spalling, delamination, water staining and rust spots".
The report found the planter box structure could be repaired without its removal but that would be complex without dismantling the council's strip of riverwalk, and would need close monitoring.
Replacing the concrete planks was another option, but would require the riverwalk to be dismantled and increase the costs involved.
The council spokeswoman said the council did "annual visual and structural inspections of all council-owned river walks and plans to invest more than $13 million in boardwalk rehabilitation in 2019-20".
"The public walkway connecting Howard Smith Wharves and Eagle Street Pier is owned and maintained by Brisbane City Council and is in good condition, with repair works completed in 2015 and 2016," she said.
Lucy is the urban affairs reporter for the Brisbane Times, with a special interest in Brisbane City Council.