Ross finished with 51 off 27 balls in what was one of the very few highlights for the men in lime.
The handy right-hander admitted the Thunder didn't start their innings the way they wanted to, and the sudden showers put them under even more pressure.
As for taking down Nabi in the 12th over, Ross smiled and said: "We needed about 20 an over at that stage, we needed a big over, and the off-spinner was who I was going to try and target.
"That over got us just back into the game … to need about 15 an over off the last two made the game relatively winnable [again]."
The Renegades received a giant dose of luck when Ferguson was caught out of his crease at the non-striker's end.
Opener Alex Hales (31 off 25) belted the ball straight back down the ground as quick Andrew Fekete's right fingertips accidentally diverted the ball back on to the stumps.
It was a cruel way for the Thunder skipper to depart and he swung his bat in frustration.
The only thing tougher to watch was the decision to award Renegades batsman Sam Harper a six in the final over when the ball appeared to land at least a metre inside the boundary rope.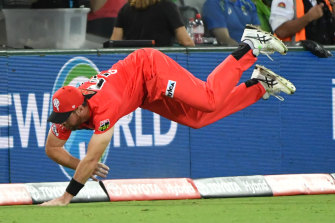 Thankfully the howler did not come back to haunt the Thunder, whose chase started woefully when Usman Khawaja was eventually given out caught behind for a duck.
Thunder quick Nathan McAndrew was in the thick of things early in the match when he dropped opener Marcus Harris and then picked up the vital wicket of Shaun Marsh,  who looked in good touch again for his 47 off 34 balls.
McAndrew then watched Beau Webster launch him out of the ground – the white ball was last sighted racing west along Canberra Avenue – before he did well to catch Webster.
Daniel Sams, the man with the golden cap for being the leading wicket-taker, did not bowl out his full four overs, while Liam Bowe, the man who used to wear glasses and was formerly known as "Harry Potter" – he was even presented a wizard's cap by coach Shane Bond when he debuted fore the Thunder earlier this summer – finished with 2-23.
Loading
The Thunder are on the edge of the top five and after Saturday night's showdown with the Sixers head on the road to Perth and then Hobart before hosting the Scorchers again.
A decent crowd of 9005 Canberrans turned up to support the Thunder and even gave it to Will Sutherland, who turned and gave it to the locals when he took a catch late in the night.
Christian covers rugby league for The Sydney Morning Herald.