Senator McKenzie said the government would work to implement the auditor's suggestions for improvements, but gave no commitment to a recommended overhaul of the way corporate Commonwealth entities approve funding.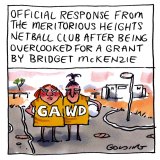 "Right now, as a result of our investment, parents are watching their kids get active on a Saturday morning instead of going down to Bunnings and cooking sausages to earn money," she said.
She dismissed claims of pork-barrelling Coalition marginal seats and said some of her interventions were a "case of reverse pork-barrelling".
"Originally there was something like 26 per cent of those projects recommended were heading into Labor Party electorates," she said. The reality is, thanks to my decision-making as minister, 34 per cent of the projects delivered went into Labor Party electorates."
The damning review has drawn widespread comparisons to the "sports rorts affair" of 1993-94, when an audit condemned the Keating government's distribution of sports grants to marginal electorates under a $30 million scheme.
Loading
Sports minister Ros Kelly later resigned after it was found she has misled Parliament over the fact one of the projects funded was ineligible.
Senator McKenzie said "no rules were broken" and she was given discretionary powers "for a purpose" in the program's guidelines.
"What that actually meant was that there were more projects supported and funded in Labor seats than if that ministerial discretion had not been deployed," Senator McKenzie said.
The audit followed a Labor complaint over a $127,373 grant in the seat of Mayo, announced by Liberal candidate Georgina Downer.
Labor has demanded Prime Minister Scott Morrison immediately stand down Senator McKenzie, the Agriculture Minister, from the frontbench.
Deputy Opposition Leader Richard Marles accused Mr Morrison and his ministers of "making decisions to save the Liberal party" at the 2019 election.
"Scott Morrison owes an explanation to the hundreds of sporting clubs around Australia today about why he ignored their interests in favour of saving his own political skin," Mr Marles said.
"What this demonstrates is that Scott Morrison is not a Prime Minister for all Australians, he's just a Liberal Party hack."
The Australian Taxpayers' Alliance said the audit revealed the Morrison government had strategically used taxpayer funds to secure seats in key electorates.
"We have given our elected officials too long of a leash with taxpayer funds, and now they are using our money in bribes for job security. Like a rebellious teen, ScoMo deserves to have his taxpayer-funded allowance taken away," ATA policy director Emilie Dye said.
"Politicians in Canberra should not be given so much power to arbitrarily pick who gets taxpayer money because they invariably pick themselves."
Rob Harris is the National Affairs Editor for The Sydney Morning Herald and The Age, based at Parliament House in Canberra