Neighbouring homes in Buffalo Creek, Merriang and Merriang South were still able to evacuate early on Friday night as the out-of-control bushfire approached.
A business owner, who did not want to be named, was evacuating for the third time on Friday since the fires began several weeks ago.
"I'm going to go. I've just got a couple of things to do before I go, give the chookies a bit more food and those sorts of things," she said in the afternoon.
"The neighbours have all gone."
Despite the constant threat of bushfires and repeated evacuation warnings, the woman said she was trying to just get on with running her business.
"I'm not a great worrier. I mean, you do what you got to do. It nobody's fault. You've just got to cope."
Strong and erratic southerly winds were predicted to fuel the fire in the afternoon. Gina Lawrie, a forecaster from the Bureau of Meteorology, said winds were expected to ease overnight.
Nine people slept at the relief centre at the Myrtleford Senior Citizens Centre after a similar warning was issued late on Thursday night.
Hume regional controller Andrew Morrow said the fire covered 90,000 hectares, with a perimeter of 553 kilometres.
About 400 firefighters were battling the blaze, which hit an area that has 200 properties.
"We are working hard to protect key assets [like] the Mount Buffalo chalet," Mr Morrow said.
People who evacuated were told to remain out of the area for the next few days.
Darrell Perkins from the Buffalo River Native Nursery and a firefighter with the Buffalo River CFA, left on Thursday after an evacuation order was issued about 9.30pm. He is now in Melbourne.
Mr Perkins said the past couple of weeks had been "incredibly smoky".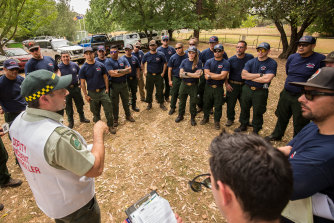 Loading
"You just worry about what might be coming."
Rain hitting the alpine and East Gippsland regions on Thursday did little to help battle the fires.
Mr Morrow said it was hoped rain forecast for the weekend would reach the fire.
"We would like to get some nice steady rain."
The plan to return residents to cut-off communities will be executed progressively over coming days and weeks.
Residents wanting to return to Mallacoota, Genoa and Gipsy Point need to be able to take one month's worth of non-refrigerated medication, and they cannot have critical medical requirements or chronic health conditions.
Those who are flown in will be able take only 10 kilograms of luggage with them.
More than 1500 firefighters are battling 20 active blazes that have burnt more than 1.5 million hectares so far this season.
Follow Vic Emergency for the latest or listen to ABC Local Radio.
Paul is a reporter for The Age.
Simone is a crime reporter for The Age. Most recently she covered breaking news for The Age, and before that for The Australian in Melbourne.
Rachel is a breaking news reporter for The Age.