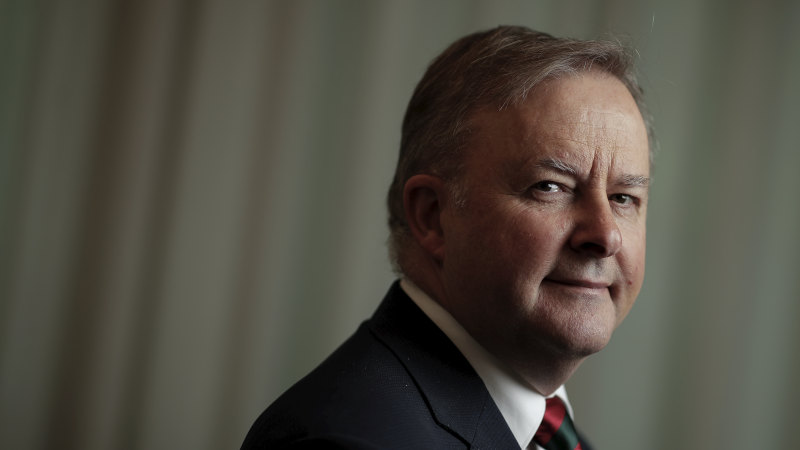 Mr Albanese told the Herald and The Age there was a need to outline the longer term target, flagging the 2030 target would be announced closer to the election.
"Australia needs a long term agreement consistent with the Paris Agreement and avoiding dangerous climate change," he said.
The federal Labor leader's comments come amid an intense debate about Australia's climate change policies during the bushfire season.
The Coalition has set a target of 26-28 per cent below 2005 levels, but Prime Minister Scott Morrison this month said the government would look to "meet and beat" it.
Grattan Institute energy program director Tony Wood said it was sensible to set a long-term target by 2050 that could be tested against "milestones" including for 2030.
"Given our clear inability to predict emissions it is patently silly to get hung up about precision. It will help no one," he said.
Loading
"Of course they should run the numbers using the department's figures as the basis and against a long term target of, say, nett zero by 2050. This is already the effective national target since it is shared by all of the states and territories.
"Shorten's big mistake was a failure to craft and deliver a compelling narrative that the policy detail and targets can follow. Albanese needs to go the other way."
Veteran Labor frontbencher Joel Fitzgibbon, who has been vocal about finding a sensible settlement on emissions with the government, praised Mr Albanese's comments and ongoing support for mining.
"Labor has always supported the coal mining industry and I believe it always will," Mr Fitzgibbon said.
"And Anthony Albanese is right, even if we can reach 50 per cent renewables, by definition the other 50 per cent will come from coal and gas."
During an interview with Sky News on Sunday morning, Mr Albanese also said Labor would not be taking its policy to dump cash refunds for franking credits to the next election, but didn't rule out grandfathering in the policy to protect existing recipients.
He said the 45 per cent reduction by 2030 might not be feasible by the time of the next election in 2021 or 2022.
"On climate change for example, one of the things that we're likely to do is announce a longer term target before we announce … because by 2050 you're likely to do that," he said.
"Do an AFL analogy: it's a four-quarter game between 2019 and 2022. You're asking me how it will play out in the final quarter. You've got to know what the three-quarter time score is.
"Frankly, I think it was a mistake in 2019 to continue to say, 'Well, we'll do exactly what we're doing in 2015' – as if it hadn't changed."
Labor's 45 per cent target was a major issue during last year's election after Mr Shorten, the then leader, repeatedly refused to nominate a cost for the policy.
Asked whether the 45 per cent target would definitely be dumped, Mr Albanese said he "wasn't saying that" and "we will be very ambitious".
He also hit out at the previous leadership's decision to not reassess its policies after the 2016 election and to keep adding measures on.
Anthony is foreign affairs and national security correspondent for The Sydney Morning Herald and The Age.
Rob Harris is the National Affairs Editor for The Sydney Morning Herald and The Age, based at Parliament House in Canberra