Many of those came in the third quarter and early in the last term when the Bullets leapt ahead with a 47-17 run.
Loading
"At that point of the game I felt we weren't playing the way we should have been," Patterson said.
"So I wanted to be more aggressive and force the refs to start calling stuff. It turned out good for us."
Patterson was one of six Bullets to score in double figures while Hawks pair Angus Glover and Todd Blanchfield finished with 18 and 17.
Power forward Will Magnay's eight rebounds and six blocked shots was a sign of Brisbane's second-half aggression.
Splintered by injuries and down to their last import, the Hawks should have been playthings for the Bullets but showed flinty spirit in the first quarter.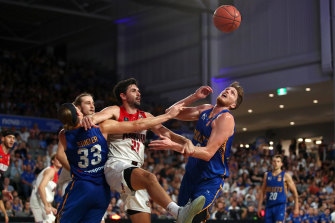 Guard Glover speared the home side from the perimeter with 10 first-quarter points to help Illawarra to an early lead.
Bullet Cameron Gliddon was just as accurate, connecting on three of four triples in the first half.
Still, the Hawks would not go away. They did not commit a personal foul in 20 minutes of basketball to ensure scores were locked 47-47 at halftime.
The Bullets could not reach the free throw line until the second minute of the third term when the Hawks had a firm grip on the game.
Patterson's second half burst and a correction in the foul count changed the course of the contest.
But Hawks coach Matt Flinn refused to blame the refereeing following the blowout.
"It was unusual but it's human instinct that's (foul count) going to get evened up," Flinn said.
"But it's not what happens to you it's how you deal with it. I don't think we dealt with it very well at all."
AAP